Need House buyers to buy your house fast?
If you've arrived at this page because you're one of the growing numbers of people who need to sell their house quickly, then you've come to the right place. We will explain everything you need to know, taking you on a journey from what these companies offer and what benefits they can offer you.
3 important benefits for you :

We guarantee a Cash offer
Free valuation & we buy in Any condition/location

Quickly & Stress free
Sell within 7 days - Exchange in 24 hours!

100% Fee free
We take no commission and pay the legal fee's


Your information is 100% confidential

Wish it was this easy for somone to buy your house?
UK House buying companies have been around for years, however only recently in the past 5 years have they really opened up to the mass market. In the context of the UK property market, this is almost feels like overnight, however current housing market conditions have greatly contributed to the rise.
Homeowners looking to sell quick are faced with many groups offering to buy their house but how does one find a company with a long reputation for treating customers fairly and helping them out when they need it? As a seller you want to find a house buyer with plenty of experience, which is invaluable when it comes to dealing with something as stressful as a house sale – the more you can rely on the buyer, the better!
5 essential benefits should absolutely expect
1. Guaranteed sale
When a company commits to buy your house, that's exactly what they should deliver. Many so called house buyers may mess you about or even pull out at the last minute. Or even wourse, many of these companies claim to buy with cash but in reality are only middle men and sell your house to an investor! With mortgages to secure and extra people in the chain this can bring all sorts of issues. House-Quick-Sell will see it right through to the end. They guarantee they will buy your property, and there is no chance of the deal falling though – in fact, the only way it will be stopped is if you decide you don't want to sell.
2. Cash payment
In short, that means you get the money for your property instantly. It's yours to do with as you wish, and it's yours pretty much as soon as you complete the sale. There's no messing about waiting for cheques to clear, and it doesn't go through any third parties, it's just a straight transaction between the seller and the buyer.
3. Fast completion
This is the main reason why people turn to House buyers like HQS, though of course it's not the only one. Because they don't need to rely on the usual process of carrying out surveys, searches and everything else (more on that below), they can complete the sale very quickly. A typical sale will take only a couple of weeks, but if necessary they can shorten that time so that exchange takes place in just 24 hours and completion within 7 days. The actual date is up to you though, so don't worry about being pushed to complete before you are ready – it won't happen. HQS only want to complete on a date that suits you. If that's a few months away, so be it.
4. House location
A leading House buyer like HQS can buy in any location in England, Wales or Scotland. Even if it's a less popular area, we still make an offer that reflects the market value of the property.
5. House condition
This can be something that puts many buyers off, and when you read a lot of articles about selling your home they'll tell to redecorate, fix those outstanding jobs and generally make the house look modern. That's all very well if you have the money, but if you've had other priorities don't worry about it, HQS will still buy and they won't judge you for putting other things first.
An established and honed sales process
The sales process itself has been honed over the last couple of decades, to make it the best possible experience for the customer. After all, when you're going through something as big and perhaps emotionally difficult as selling your home, you want things to be made as easy as they possibly can be.
1. To begin with...
A reputable company won't contact you out of the blue. They don't do cold calling or mailshots, or anything like that. If you are interested in finding a house buyer quickly, you'll need to contact them either over the phone or by completing the form on their website. It's not like an interview or anything like that though, as they keep the questions to a minimum. All you have to provide to start with are a few details about the house such as the location, type, estimated value and any outstanding mortgage amount.
2. Once they've got the house details...
They'll need to work out a rough idea of the value of the property. It's only an estimate for now, a more precise value will be worked out later, but it's a start and will be used as the basis of the cash offer. The offer will be presented to you with no obligation, and it's up to you then if you want to proceed to the next stage. If you don't like the offer, that's ok and you can stop the process, if you're happy with it then you move on to the fast track route.
3. The next part is where the real progress is made...
An independent surveyor (from the Royal Institute of Chartered Surveyors) will assess the property and a more accurate valuation will be made, reflecting similar properties that have been sold in similar areas. If a visit is required by the surveyor this will done at a time to suit you, rather than the other way round, in keeping with their commitment to customer service. You'll then receive an updated cash offer, and once again it's up to you whether you accept it or not.
4. And if you are happy with everything...
Assuming you still want to go ahead and sell, all that remains is for you to exchange contracts and agree a completion date. There is no need for any further visits, and a leading house buyer like HQS don't require the searches and extended legal processes that are needed for ordinary buyers getting a mortgage. HQS are one of the only buyers that don't charge any fees either (and just try getting an estate agent to work for zero commission) and as a matter of fact any legal fees that you incur will also be paid by HQS.
So, there you have the full view of how house buyers can help you and how the whole process works. If you want to know more, then you can talk to a consultant via freephone 0800 0845 025 or complete the form below.
House-Quick-Sell® are the leading UK Buyers
What actual customers are saying...

"It was very good, got the information straight away and it went through very quickly"
-Mrs Anne, Milton keynes
18 years of "fast house buying" experience

National buyers (helped over 3000 house owners in the UK)

Unlike most other so called "cash buyers", HQS buy houses with their own cash, thus ensuring a fast and secure sale.

Offer a 100% no obligation service, if you decide to go with HQS we even pay for the valuation and legal fees.

Read more of our popular articles
As the UK's leading nationwide team our experienced team has published free tips and advice to help answer any questions you have about house buying services in the UK.
National House Buyers: How we can actually buy in just 7 days!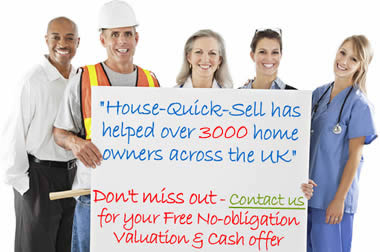 Get your Free Cash offer now

Your information is 100% confidential
P.S. Don't forget if you don't like our offer you can simply walk away!

It's a 100% No-obligation offer
You get an Immediate decision
Get a Free house valuation from an expert