Sell your House for Cash in just 7 days
Have you been grappling with the question 'how can I sell my house for cash?' and not really coming up with any answers, then you've come to the right place. This article explains the cash sale process, which is now becoming a more common way of selling a house and why this service can be the better option for you.
Find out how much we could offer for your house in minutes

We guarantee a Cash offer
Free valuation & we buy in Any condition/location

Quickly & Stress free
Sell within 7 days - Exchange in 24 hours!

100% Fee free
We take no commission and pay the legal fee's


Your information is 100% confidential
Sell houses for cash Vs. Estate agent
A cash sale actually saves you money in many areas, the table below outlines the savings you would make on a typical house that has been valued at £100k by an Estate agent:
| | | |
| --- | --- | --- |
| | Estate Agent Sale | House-Quick-Sell® |
| | About 10% below asking price -£10,000 | We only work with a RIC's valuation in mind |
| A typical offer from a buyer | About 4.7% below asking price -£4,700 | Our offer will vary depending on your situation* |
| Current mortgage payments | Traditional sales take around 6 months, meaning you must pay on-going mortgage payments over this time. -£3,000 | We can complete quickly, requiring you to only pay the current mortgage payment |
| Typical Solicitor Costs | Traditional sales require legals fees -£1000 | We will pay for your legal fees. |
| Estate agent and other fees | Estate agent fees of about 2% + vat -£2,400 | We do not charge any commission |
| Typical Removal Expenses | -£1,000 | We do not charge any commission |
| Property Insurance | -£150 | No insurance is required as we arrange this |
| Repairs and Maintenance | -£2000 | No need to worry about these if selling to HQS |
| Total reductions | -£24,250 | |
| Actual payment to You | 76.0% of the estate agent's original valuation £75,750 | Our actual offer varies depending on the situation* |
*
Complete our no-obligation
valuation & cash offer form
to see what we can offer for your property.
Our example is based on an Estate agent taking 6 months to find you a non cash buyer.
When using House Quick Sell, you can expect to save at least 6 months of mortgage payments compared to selling through an estate agent.
Home information packs are no longer necessary.
No property insurance is required as this is arranged and paid by our company.
No repairs or maintenance to worry about when you sell to HQS.
We believe our cash offers are competitive and at a fair price. If you're always wondering "should I sell my house for cash" then complete the form to see how our service can produce an agreement that works for all parties.

If your situation fits one of the following, then selling for cash is a viable option
As we mentioned earlier, there are a lot of reasons why you might want to sell property for cash. The list below isn't complete but does cover the 4 most common reasons.
1. Financial Problems – these can range from imminent repossession to marital breakup or simply needing to raise funds for another purpose in a hurry.
2. Needing to Move Quickly – if you are part of a chain and stand to lose your dream home because your buyer has dropped out, deciding to sell your property for cash can keep things on track and let you continue with your plans.
3. Fed Up With Slow chain – today's housing market means many houses wait for months or years before they finally sell. Some owners just don't want to wait that long, or want to sell before the price falls further. Thus a common situation where people approach us is when they are caught up in a property chain. If you're looking for a houses for cash service HQS can help as we have the ability to purchase a property directly with our own cash in a very short period of time - it is possible to complete within a week if required!
4. Reducing Liabilities – this one is a big reason, especially since everybody got into the buy to let market. Landlords often want to reduce their portfolio size quickly, and sell empty or underperforming houses before they lose money.
Why it's worth enquiring about our risk free cash offer?
One increasingly common way of selling property for cash is to use a homebuying company like House-Quick-Sell®. Our services have always been around, but they have really come to the fore during the current economic crisis. Traditionally, we were a buyer of last resort after other ways of selling had been exhausted, but now we are increasingly becoming a viable first choice for home sellers.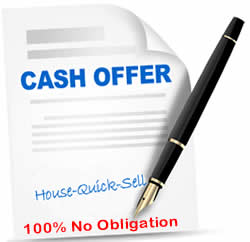 The reason for this is simple
There are very few other buyers out there. The usual source of house buyers has dried up, as first time buyers can't get onto the housing ladder and few can afford to move. There are even fewer buyers who are able to move quickly and complete according to your timescale, and do it without any hassle.
HQS offers all the things that the ordinary buyer can't. Think about it, If you had to list out a perfect buyer, I'd bet you'd think of something like the following:

• Pay with their own cash – Did you know 95% of so called "cash buying companies" actually are only middle men and rely on investors to pay for a property? This means the property sale is not guaranteed and can add all sorts of delays. HQS buy with our own cash thus ensuring a secure, fast sale.
• Make an instant decision – most buyers go off to see other properties or have a think about yours, and take their time over it. We will tell you immediately whether we can buy your house or not. Best of all, our offers are 100% risk free.
• Stick to their word – It's often the case that buyers pull out at the least minute, upsetting all your plans. HQS stay committed and, once we 've said we will buy the property, we follow it through.
• Give a fair price – just because you are wanting to sell quickly doesn't mean you are desperate or should be taken advantage of. You can expect to be offered a price below the official valuation, but the discount will reflect the convenience of selling quickly and receiving cash for the property.
•By completing quickly – how many buyers can arrange a mortgage and get searches done in just 7 days? The answer is very few, if any. Our sell house for cash service can complete in just 7 days if you need to, and as we have the cash waiting we don't need to wait for finance. We also offer without the need for searches.
• Pay your fees - when money is tight already, you don't want to be paying out a chunk of the sale money in upfront legal fees, but no individual buyer will pick those up for you. Our cash buying service will pay for the legal and valuation fees and charge no commission.
We are the leading UK homebuyers, offering a risk free valuation to sell homes for cash. We have a no-pressure policy, once our offer has been presented to you we sit back and allow you to decide - at your own pace.
All your information is 100% confidential and it only takes a few minutes to enquire! Our property consultants can present you with a no obligation cash offer for your property within hours.

How the Cash sale process works
It's simple with House Quick Sell
You complete the form or you call our Freephone number

0800 0845 025

anytime.
We assess your individual circumstances and take some brief details and will provide a cash offer instantly (basically you have a cash offer within minutes!).
If acceptable we have an agent come to your house and complete the relevant paperwork as and when you please. We work around you as our customer.
Once the paperwork has been completed, we pay for the RIC's bank survey and exchange contracts (so we put our money where our mouth is).
If all goes well we complete as and when you want!
All along you have a dedicated account Manager who will guide you through every step of the process and make sure it is hassle free for you. Get started with your free quote now!
5 resources to help you sell property for cash
These free tips, articles and advice have been put together by our expert consultants to help you with any problems related to selling a house for cash. They are designed to get you up to speed on how the cash sale process works, the UK buying market and how to avoid potentially fatal mistakes when dealing with a cash buyer.
10 Ways to Spot Dodgy Cash buyers for houses
Cash for houses: How the process REALLY works
Houses bought for cash: How "Mr and Mrs Smith" Sold for cash
Cash home buyers: A word of WARNING!
Cash for Homes in less than 7 Days
Choose the right Cash Property Buyers

Our most popular tips, advice and guides for home owners:
UK homebuyer: AVOID or a Legitimate option?
Property buyers: 6 MUST READ tips before you Sell
We buy any house: Is that REALLY true or just a lie?
Never again have to ask "Who will buy my house?"
The 5 essential steps to achieve a quick house sale
House buyers: The 5 key Benefits you should expect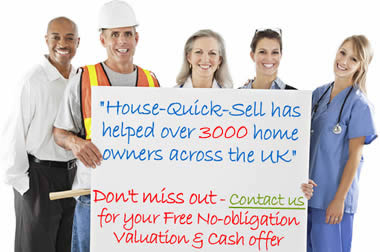 Get your Free Cash offer now

Your information is 100% confidential
P.S. Don't forget if you don't like our offer you can simply walk away!

It's a 100% No-obligation offer
You get an Immediate decision
Get a Free house valuation from an expert