5 Essential steps to get you a Quick House Sale
Are you looking to sell a property? Maybe it's your own home, maybe it's an investment property you want to sell, or maybe it's a property you have inherited and now want to sell on. Whatever the reason behind it, your options are the same as everybody else when it comes to increasing the changes of getting a fast sale.
3 important benefits for you :

We guarantee a Cash offer
Free valuation & we buy in Any condition/location

Quickly & Stress free
Sell within 7 days - Exchange in 24 hours!

100% Fee free
We take no commission and pay the legal fee's


Your information is 100% confidential
1. Fix it
Remember all those jobs that you've been putting off for the last few years, the ones that you never got round to? You need to sort those out. You might not notice the dripping tap or the damp patch in the corner any more, but any potential buyer definitely will. If you want them to walk straight back out of your door and into the bank to get a mortgage to buy your house, make sure everything looks good and is working exactly as it should.
2. Get the right agent

Make sure you find an agent who is experienced in selling your type of property, and in your area too. There will have the best chance of providing relevant quick house sale advice that will get you a result – it's no use appointing a flashy agent who talks a lot and promises a glossy sale brochure when they don't actually know the first thing about your type of property or what sort of person wants to buy it. If you get one of those, all will happen is that you end up with a long drawn out process with lots of people viewing the property and nobody buying it because it is being marketed to the wrong people.
3. Price it properly
It might sound obvious, but you need to make sure your house price is competitive. There is no way you are going to achieve a quick sale of house if the price is above, or even the same as, other similar properties in your area. Do some research (tip: visit the popular UK portal Find a Property, plug in your postcode details to compare house prices in your area). Look at asking prices and then adjust yours from 5% to 20% below those to create interest from buyers who are in a position to move quickly.
4. De-clutter it
Buyers form an impression of your home the second they stepped through the door. If all they see is clutter, they won't be interested. Tidy everything away so the place looks neat, sure that the storage bases well used and that there is plenty of it, and it will make a massive difference to the attitude and perceptions of potential buyers.
5. Modernise it
Ok, if funds are tight you aren't going to be able to put in a new kitchen and bathroom, but there are some other things you can do to spruce up the property and encourage potential buyers to think that if they don't buy right now someone else will. Making minor changes like updating old-fashioned light fittings and switches, putting fashionable coloured (but still neutral) paint on the walls and even changing door handles can have a considerable difference on the way the potential buyer looks at your home
Or Sell hassle free in just 7 Days
House-Quick-Sell's house buying service is worth serious consideration. Our service is becoming increasingly accepted as a mainstream method of selling a home quickly, and for some people they are the only way that they can raise cash quickly or avoid unpleasant and long lasting experiences such as repossession. Visit our benefits page for a full run down of the advantages of selling your home through us.
When it comes down to it, all we are doing is taking the place of the old-fashioned cash buyer, of whom there are precious few around at the moment. The process is very easy – all they have to do is contact us, provide a basic details about the property, arrange a valuation, and then decide whether to accept the offer or not. We can guarantee the timescale for the sale and from start to finish the whole process can be done in as little as seven days.

Read our other popular quick sale guides and resources
4 Smart tips that will get you that Fast house sale
Quick property sale guide and advice for newcomers
Our official promise to you

Our customer service standards are very important to us, we have put together our official promise on delivering the best possible service.
Click to read the full charter.

Our most popular tips, advice and guides for home owners: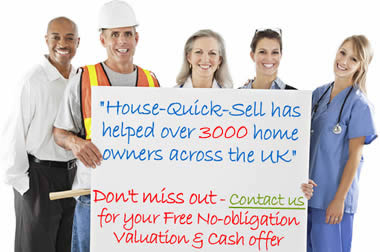 Get your Free Cash offer now

Your information is 100% confidential
P.S. Don't forget if you don't like our offer you can simply walk away!

It's a 100% No-obligation offer
You get an Immediate decision
Get a Free house valuation from an expert