National House Buyers. We Buy in just 7 Days!
3 important benefits for you :

We guarantee a Cash offer
Free valuation & we buy in Any condition/location

Quickly & Stress free
Sell within 7 days - Exchange in 24 hours!

100% Fee free
We take no commission and pay the legal fee's


Your information is 100% confidential
Looking for a Buyer for your Home? Stop Here.
A question for you - if you needed to find house buyers quickly, what would be the best and easiest way of doing it? You've probably thought about estate agents, but can you guarantee a quick sale at the price you want through them? Probably not, and you've got all the bother of people viewing your house, offers, haggling and everything else.

How about auctions then? They can be a bit quicker as they're held regularly and you've also got the option of setting a reserve price that house can sell for, but you still need to make buyers interested and if there aren't any around it's tough luck.
So what about individual cash buyers? Great idea, but there aren't many around right now, at least in the traditional form of a person who has already sold one house and is just looking for another one to buy right away. In any case, those few who do exist have the pick of the market and can afford to be choosy, so if you are not in their area or don't have exactly what they are looking for then they won't be interested.
But what if you could combine the best bits of the all the above options into one entity?
A proven national house buyers company, who will buy any type of property, in any condition and in any location, quickly and for cash? Well, happily for you, such a company exists. HQS (House-Quick-Sell®) have, over the last couple of decades, looked at what works best for their customers and built their business around those principles. Read on for more detail about the advantages they offer over the alternatives.
1. A true national service
First, they are a truly national company and buy properties anywhere in England, Scotland and Wales. Within those areas, there are no parts they won't buy in, nothing out of bounds or 'not in quite the right area'. Their staff cover everywhere, whether you are in the centre of a major city or on a remote hillside.
2. Buy in any condition or location
Secondly, they won't reject your house because it isn't in the best condition. Obviously you'll get a better offer if the property is well maintained, but unlike other buyers they won't walk away on the grounds that there are plenty of others to choose from.
3. Proven fast sale service (within 7 days if required)
The next point to consider is the turnaround speed of national house buyer companies like HQS. It's lightning fast compared to most sales through estate agents, and a lot quicker than auction sales. Whereas the average house sale take two or three months few months through an estate agent, and an auction generally takes at least a month, the time for a sale to HQS can be measured in weeks or even days. Typically a sale takes about three weeks, but can be reduced to one week if the seller really has to move fast. On a related note, the timescale isn't driven by HQS either – the seller gets to decide when completion of the sale is convenient for them, rather than the other way around.
4. Genuine Cash buyers (no middlemen or investors)
Finally, the payments are made quickly and for cash. Compare that to the other options you have – if your buyer needs a mortgage, then you have to wait for lender to send the funds to the solicitor, then the funds to be transferred to you, all of which can take a few days. Auctions can take even longer, as successful bidders usually only pay a deposit initially and then have to pay the balance within the next couple of weeks. There are also fees to consider, with both estate agents and auctioneers taking their cut of the sale price, so you get less than the actual sale price. When you sell to HQS, the amount agreed is the amount you receive as there are no commission or legal fees to be deducted
Get started with a Free no obligation quote:
1) Get in touch >>

2) Cash offer >>

3) Sale!

Get started by completing the cash offer form or call free anytime on 0800 0845 025

A property advisor will call you within 24 hours to discuss your situation
and offer you a Free no obligation valuation & cash offer
If you are happy with the offer we will start the valuation process and exchange within days or whatever timescales that best suit you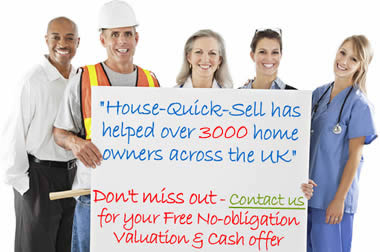 Get your Free Cash offer now

Your information is 100% confidential
P.S. Don't forget if you don't like our offer you can simply walk away!

It's a 100% No-obligation offer
You get an Immediate decision
Get a Free house valuation from an expert