How to sell a property quickly
How it works in 3 easy steps
| | | |
| --- | --- | --- |
| 1) Get in touch >> | 2) Cash offer >> | 3) Sale! |
| | | |
| Get started by completing the quick cash offer form or call free anytime on 0800 0845 025 | A property advisor will call you within 24 hours to discuss your individual situation and offer you a free no obligation valuation & cash offer | If you are happy with the offer we will start the valuation process and exchange to whatever timescales that best suit you |
3 important benefits for you :

We guarantee a Cash offer
Free valuation & we buy in Any condition/location

Quickly & Stress free
Sell within 7 days - Exchange in 24 hours!

100% Fee free
We take no commission and pay the legal fee's


Your information is 100% confidential
1. Getting in touch
Understanding your unique situation
If you complete the form one of our property advisors will get in touch within 24 hours and discuss your circumstances as well confirming the required details of your property. Our consultants have extensive experience on how to sell a property whilst achieving quick cash sale regardless of your situation.
Once the details have been confirmed the approximate market value of your property will be calculated, please note this value will only be utilised for the purpose of the cash offer only (if you decided to go ahead with our offer a more precise market value will be determined by an independent RIC's chartered surveyor.
2. A risk free offer
A bespoke offer for your particular circumstances
Our property advisor will conduct some further research and then present a no obligation cash offer. Depending on the details the offer will be a percentage of the market value.
3. Proceeding with the quick sale
Offering you a fair and hassle free sale
If you are happy with the offer and are ready to go ahead the agreement will be confirmed it in writing and the quick sale process started.
Timescales are completely flexible - the date of the sale is set by you! We can exchange contracts within 24 hours and complete the house selling process in 7 days if required.
A dedicated consultant will be assigned to your case and will guide you through the property sale process ensuring all the agreed timescales for completion are met.
Our team will ensure all the particulars such as the outstanding mortgage (if any) are paid off. All other proceeds will be transferred to your specified account.
Get in touch with House-Quick-Sell for a free consultation and cash offer now.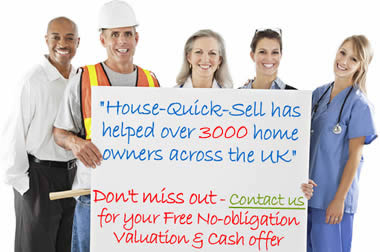 Get your Free Cash offer now

Your information is 100% confidential
Take the next step - complete the form above or call Free anytime on 0800 0845 025
P.S. Don't forget if you don't like our offer you can simply walk away!

It's a 100% No-obligation offer
You get an Immediate decision
Get a Free house valuation from an expert