Benefits of selling your home to a specialist
We offer a no obligation valuation & cash offer for your house, allowing you to quickly move with selling your home. Our no-pressure policy means once we present our cash offer we sit back and allow you to decide in your own time.
9 reasons why you should choose us over other companies or agents
| Benefit | Using an Estate agent | Using House-Quick-Sell® |
| --- | --- | --- |
| | Other buyers can drop out | |
| | Average sale is within 6 months | Within 7 days if required |
| | Estate agent sales can be time consuming and uncertain | We take care of everything, keeping the process as hassle free as possible. |
| | You must pay a number of fees including all legal fees | We cover all of these (solicitor fees up to £500) |
| No estate agent fees to pay | Typically, Estate agents fees are around 2% | We do not charge any commission |
| | Estate agent will charge approx £300+ for a RICs valuation | |
| No hidden fees or false promises | Other costs, chain breaking or further issues can materialise later | We stick to the agreement to completion. |
| | Public viewings and other parts of the chain just mean more work and stress for you | No public viewings or boards are required, we are 100% confidential |
| | Estate agents may not want to sell your property and are not flexible | We will buy your house regardless of the condition and are willing to be flexible to suit your needs |
3 important benefits for you :

We guarantee a Cash offer
Free valuation & we buy in Any condition/location

Quickly & Stress free
Sell within 7 days - Exchange in 24 hours!

100% Fee free
We take no commission and pay the legal fee's


Your information is 100% confidential
Peace of mind with a guaranteed sale
Unfortunately in today's market conditions it can take a considerable length of time to secure a sale via traditional methods. Avoid the stress and potential pitfalls by achieving a cash house sale. House-Quick-Sell® is an established home buyer:
Over 18 years of property buying experience
National UK specialists at buying houses quickly
Have helped over 3000 home owners across the UK
Other less obvious benefits of our cash sale service
HQS offers further cost benefits besides the legal, valuation and fee savings.
Stop further mortgage payments
No further monthly payments to pay as well as no maintenance or property maintenance charges such as house insurance or boiler repairs.
Secure that next home
Have the flexibility to negotiate and move into the new house you may have your eye on, potentially gaining an advantage over other interested parties.
A fair market valuation
We offer a very upfront and fair service, our cash offer will be below the typical asking price for a property but with all of the above benefits and cost savings we believe our service is a great option for anyone wishing to move quickly. (To get a rough idea on the difference between Estate agents asking prices and actual sale values visit the UK's biggest property portal Rightmove and compare sold properties in your area).
Our service offers a stress free sale where our team completes the entire selling your home process with as little hassle to you as possible.
Our official promise

Our customer service standards are very important to us, we have put together our official promise on delivering the best possible service for our customers.
Our promise is designed to give you the peace of mind and make the benefits of our customer service standards clear, click to read the full charter.
Selling your home has never been easier, we have helped customers in extreme circumstances sell their house, it's never too late to enquire.
All your information is 100% confidential and it only takes a few minutes! Our property consultants can present you an online, CASH offer for your house or property instantly.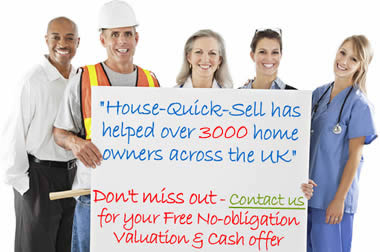 Get your Free Cash offer now

Your information is 100% confidential
Take the next step - complete the form above or call Free anytime on 0800 0845 025
P.S. Don't forget if you don't like our offer you can simply walk away!

It's a 100% No-obligation offer
You get an Immediate decision
Get a Free house valuation from an expert