We Buy Any House in less than 7 days
House-Quick-Sell® does exactly what our name says, we allow people to sell fast! If you are one of the growing number of individuals who want to ensure you sell to the right people then we are the cash buyers for you. Unlike most so called "cash buyers" we buy with own cash thus guaranteeing the sale.
3 important benefits for you :

We guarantee a Cash offer
Free valuation & we buy in Any condition/location

Quickly & Stress free
Sell within 7 days - Exchange in 24 hours!

100% Fee free
We take no commission and pay the legal fee's


Your information is 100% confidential

We Buy Any Home regardless of it's Type, Condition or Location
So far, so good? You'll probably want a bit more to go on than that. There are a lot of reasons why people need to sell quickly (contrary to popular belief it isn't always due to poor finances). Do any of the situations below apply to you?
Securing another home?
Traditionally, one of the most common reasons to sell a home is to move to a different one. That's been a bit more difficult over the last few years as long chains have stalled because one owner can't find a buyer, and it has resulted in many people losing out on their dream home. HQS can stop the collapse of a chain, and therefore the loss of your intended home, by stepping in and purchasing your house so that you are free to continue your new purchase. As most transactions can be completed in just a couple of weeks, it also means you've got options if your intended buyer drops out at the last minute.
Relocating quickly?
There are plenty of reasons to do this, such as a new job, moving to a better area for kids schooling, marital breakup and so on. But they all come down to the same thing – you need to move quickly, and that's just not possible using traditional routes in the current market climate. You have a deadline by which you need to be in the new area, and you can't guarantee that someone will have seen the advert for your house, viewed it, arranged a mortgage and bought it in the time you have. Our service is known for its speed, flexibility and security of sale, for proof, our we buy any house reviews and video case studies can be found on our testimonials page.
Raising money?
There are plenty of good reasons to be wanting to raise cash, and for many people it's not even their home they are selling to do it – they may be selling an inherited property, or one that has been rented out and is now surplus to requirements. Whatever the reason, if you are wanting to raise funds quickly to buy something else, whether it's another house, a holiday, or a car, then you have a deadline to raise that money by otherwise the chance is lost. A fast buy company like HQS may be able to help out in that case, as most transactions can be completed in just a couple of weeks.
Stopping mortgage payments?
Many people have found recently that their houses are in danger of repossession because they just can't keep up with the mortgage payments, for one reason or another. Selling the property is really the only option to avoid repossession in many cases, as even handing the keys back doesn't clear the debt and the owners can still be pursued for it by the lender. By the time they realise they have to sell, home owners often have a court date already set and don't have much more than a few weeks in which to advertise their house and get it sold. A fast sale, such as selling to HQS, is therefore required.
Just can't sell?
If your house has been on the market for a while, you're probably starting to wonder what's wrong with it. The short answer is that there's nothing wrong with it, it's more that many people can't afford to buy right now or your estate agent just isn't reaching the right audience. HQS doesn't have any such restrictions – we have cash waiting for properties, so have no need to raise finance or get a mortgage, and we have no pre-conceptions about the sort of house we are looking for or what area we want one in.
It's in the wrong location?
This is something that always catches a number of homeowners. They buy a house in an area, then find it's not as fashionable or popular as it used to be and the buyers just aren't around anymore. It's been made worse with the problems of the last couple of years, and sellers find themselves with a perfectly good house that they can't sell – it's only fault is that it is in the wrong place, and the owners decide that they want to sell before the local market gets any worse. HQS, unlike the traditional buyer, doesn't worry about the location and we will buy regardless of whether the property is in the most fashionable areas or those that have been in decline for a while. When we say 'we buy any house', we mean it!
It's not in a good state of repair?
This is another reason that is more common than you think. Plenty of people find that general house maintenance is way down the list when it comes to finding uses for the money you have, and that's rightly so – you can't be replacing a roof, for example, when the car you use to get to work requires urgent repairs. Some people therefore choose to sell before the potential home maintenance bills get too big to handle, and they often need to do it quickly. In a market like we have today, where buyers can afford to be choosy, they're often put off by a property that needs a bit of attention. HQS isn't put off by that though, and will still buy.
Your reasons for wanting to sell your house quickly are as unique as your home itself, but regardless of your reasons or your personal circumstances HQS offer a fast, non-judgemental service. We don't worry about whether your home is newly decorated or hasn't been touched for years, whether it's in a popular area or one where few houses are bought and sold, our claim of 'we buy any home' is a true one. Give us a call free on 0800 0845 025 or complete the form below to see what we can do for you.

Our official promise

Our customer service standards are very important to us and as we buy any house uk we have put together our official promise on deliver the best possible service.
Our promise is designed to give you the peace of mind and make the benefits of our customer service standards clear, click to read the full charter.
House-Quick-Sell® is the leading UK House buyer
What actual customers are saying...

"It was very good, got the information straight away and it went through very quickly"
-Mrs Anne, Milton keynes
Watch the actual video testimonials now
We have years of "quick property buying" expertise

Have helped thousands of home owners in the UK

Offer a true no risk service - 100% Free quote & Home valuation
How do I get started?
Take the first step towards selling your house by completing the form or calling one of our advisors free on 0800 0845 025

Further reading about the "We buy any home" sale process
With nearly 18 years of experiece in quick house buying, our experienced team has published free tips and advice to help answer any questions you have about house buying services in the UK.
We buy houses: A Step by Step Guide on how the sale process works
Why and How We Buy your Home for Cash regardless of the situation or property
Own a flat? We buy any flat across the UK. Read about what we can do for you
Our most popular tips, advice and guides for home owners:
UK homebuyers: AVOID or a Legitimate option?
Property buyers: 6 MUST READ tips before you Sell
Never again have to ask "Who will buy my house?"
The 5 essential steps to achieve a quick house sale
House buyers: The 5 key Benefits you should expect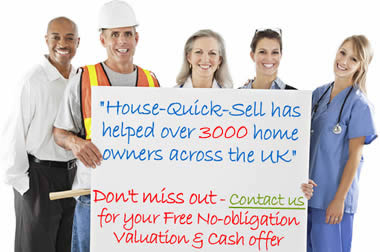 Get your Free Cash offer now

Your information is 100% confidential
P.S. Don't forget if you don't like our offer you can simply walk away!

It's a 100% No-obligation offer
You get an Immediate decision
Get a Free house valuation from an expert