Get a Quick Sale in Just 7 days
3 important benefits for you :

We guarantee a Cash offer
Free valuation & we buy in Any condition/location

Quickly & Stress free
Sell within 7 days - Exchange in 24 hours!

100% Fee free
We take no commission and pay the legal fee's


Your information is 100% confidential
A quick property sale can be achieved in as little as 7 days. Selling via a quick house sale company can take out the stress and hassle of selling and enable you to move on knowing that you are guaranteed completion at your convenience.
However, the bottom line is that a fast property sale requires a great deal of focus and effort from both the buyer and seller.
3 most important tasks to achieve a quick sale property
1. No legal ownership restrictions
Ideally the property should be free from any restrictions or covenants that would prevent a quick sale, in particular covenants where another individual has to provide approval for a sale to proceed often causes a delay. In such cases it will be difficult to achieve a really fast property sale.
2. Get the solicitors on board
The solicitors appointed to act on behalf of the buyer and seller need to be instructed on the urgency of the property sale and the need to maintain phone contact and to respond promptly to any documentation requested by the solictor.
3. Communication is the most important factor
It sounds obvious, but the most overriding factor is focus by the seller and buyer with timely communication and co-operation. To help achieve this at House-Quick-Sell®, we assign a dedicated account manager to every individual case. He or she will maintain regular communication with all parties involved to ensure the fastest possibe property sale.

A quick property sale is guaranteed with House-Quick-Sell®
What actual customers are saying...

"It was very good, got the information straight away and it went through very quickly"
-Mrs Anne, Milton keynes

"Straight talking, straight dealing", "Very good, very professional"
-Mr J, Wigan
Watch actual private sale video testimonials
We have over 18 years of "fast property buying" knowledge

Over 3000 property owners helped from across the UK

Achieve quick sale property that is hassle & stress free.

Our valuation is 100% free and genuinely risk free for you
.
How do I get started?
Complete the form or call one of our friendly advisors FREE on 0800 0845 025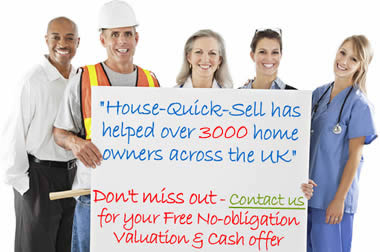 Get your Free Cash offer now

Your information is 100% confidential
P.S. Don't forget if you don't like our offer you can simply walk away!

It's a 100% No-obligation offer
You get an Immediate decision
Get a Free house valuation from an expert