Buy my property: 4 Must ask demands before you sell
If I was looking for somebody to buy my property, I'd have a list of things that I'd expect, even more so if they wanted to buy my house for cash. I wouldn't want it all one way – I'm doing them a favour by selling them my house, so the least they can do is provide somethings in return right? On this page, I'm going to share that list with you.
3 important benefits for you :

We guarantee a Cash offer
Free valuation & we buy in Any condition/location

Quickly & Stress free
Sell within 7 days - Exchange in 24 hours!

100% Fee free
We take no commission and pay the legal fee's


Your information is 100% confidential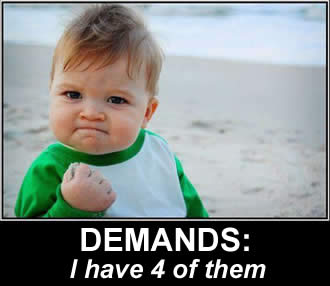 So what are my demands?
Lets face it, I might want someone to buy quick but that doesn't mean I'm going to just hand them the keys if they make me some vague promises. I want some guarantees, so I'll be looking for and demanding the following:
1. Don't mess me about
If someone makes an appointment to value my house, I expect them to keep it. I don't want to, and won't, deal with a company that keeps me waiting in all day for a visit that never happens. On the other hand, you'll get a lot of points for responding to me quickly and working your valuation visit around my availability.
2. Treat me fairly
That's all I ask. I realise I probably won't get the top rate if someone turns up wanting to buy my property quickly, but that doesn't mean I'll roll over and let you take the mickey by offering a ridiculously low amount either. Offer me a decent price that lets me sort out the reason for selling the property, and I'll be happy. While we are talking about treating me fairly, I also expect you to provide me with regular updates about the progress of the sale so I know everything is still on track.
3. Stick to agreements
I'm trusting you here. I need to know that if we agree on a certain price, you aren't going to change your mind and offer me less at the last minute. I also want to be sure that once we've agreed a date for the exchange and completion, you'll stick to it. If I name a date I want the deal done by, it's probably because I've got a good reason for it and if it isn't going to be possible, I need you to tell me right away.
4. Pay my fees
Granted, I'm being cheeky with this one, but why shouldn't I ask for more? I've got a good reason for selling this property quickly, and as you are likely to be getting it at a slight discount because it's convenient, I want you to throw in a free extra. Doing that will create a lot of goodwill on my side and save me the hassle of paying out more money.
How does a company Like House-Quick-Sell® fit In?
HQS can meet all the above demands, and if you have any more specific requirements then these will also be accommodated wherever possible.
So you're asking yourself how complicated is the "buy my property for cash" process? HQS's sale proces is simple, all it takes to start is one phone call or completion of the enquiry form on the website.
Once one of our property consultants has reviewed the details a cash offer will be provided. If you are happy to take the next step we will arrange a valuation at a time that suits you. Assuming the RIC's valuation is successfull, all that remains is to sign the paperwork and agree a date for completion, which can be as little as 7 days away. Once committed, HQS will follow the process through to the end and stick to the letter of any agreement made with you, the seller.

Our official service standards promise

Our customer service standards are very important to us, so we have put together our official promise on delivering the best possible service.
Stop wondering "who will buy my property for cash?" with HQS's reputable and established quick sale service. Click to read the full charter.

House-Quick-Sell® will buy your property for cash
What actual customers are saying...

"Straight talking, straight dealing", "Very good, very professional"
-Mr J, Wigan

"We are very pleased with the service that we've have had", "it's just taken about 3 weeks"
-Mrs Phillipa, Cheshire
Watch the actual private sale videos
We have nearly 20 years of property buying expertise

Unlike many so called "cash buyers" we actually buy property with our own cash & have helped over 3000 property owners in the UK

We offer 100% upfront property buying service, taking away or the hassle and stress from our customers

We offer a no risk quote and unlike other companies we even pay for the valuation fee.
How do I get started?
Take the first step by completing the form or calling one of our advisors free on 0800 0845 025 (anytime).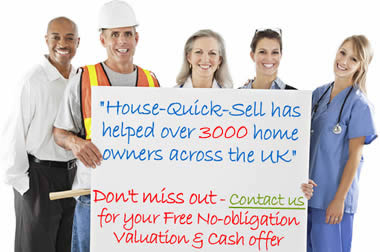 Get your Free Cash offer now

Your information is 100% confidential
P.S. Don't forget if you don't like our offer you can simply walk away!

It's a 100% No-obligation offer
You get an Immediate decision
Get a Free house valuation from an expert