Cash for Houses in just 7 days - the process explained
If you want to find out a little bit more about selling for cash, you have come to the right place. We are going to explain a little bit about what options are available to you, the essentials you need to know before making a decision, and how you can become one of the increasing number of people who are getting cash for houses.
3 important benefits for you :

We guarantee a Cash offer
Free valuation & we buy in Any condition/location

Quickly & Stress free
Sell within 7 days - Exchange in 24 hours!

100% Fee free
We take no commission and pay the legal fee's


Your information is 100% confidential
You may have thought to sell via services that pay cash for a house purchase. These services compete with traditional estate agents very successfully in a certain part of the market, namely those where sellers need to raise cash for some reason or other and can't or don't want to risk taking the time for the usual process to work through.
How does the cash sale process work?
The actual process of selling to a cash purchase company is very straightforward. Each service will vary slightly in their approach, but generally speaking all have the same basic business model.
1. Firstly, you need to approach them to tell them that you'd like to sell. You can do this either over the phone or online, and you just need to give a few basic details about the property type and location.
2. The company will get touch and conduct a initial valuation of the property over the phone. The valuation will be done at a time to suit you.
3. Once the valuation is done, a cash offer will be made for the property. You should be aware that this will be below the valuation you may have been given by an estate agent, but you need to do your sums carefully as it may not be all that different once you take into account things like the estate agents commission and legal fees.
4. If you are happy with the cash offer, all you have to do is accept it and arrange a date for completion of the sale. The company will then arrange all legal documentation so that once again everything happens at a time scale to suit you.
6 BIG benefits House-Quick-Sell® offers
If you want cash for your house via House-Quick-Sell® there are quite a few benefits to consider. These are summarised as follows: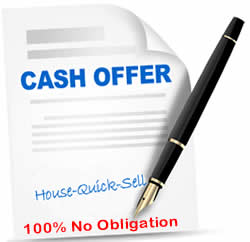 • HQS buys the house with their OWN cash
Unlike 95% so called "cash buyers", HQS actually buys with their cash and is not acting as a middle man to investors. Because of this the sale is truely secure.
The sale is guaranteed
Unlike buyers found through an estate agent, we guarantee the sale and will not change our minds at the last minute.
• Completion is very quick
The average house sale through an estate agent takes around six months, once all the viewings, searches and legal processes are resolved. Our fast sale service usually completes in only a couple of weeks, and can be as fast as seven days if that is what you need.
• There are no commission or legal fees
Estate agents typically charge about 2% commission on any sale, and then you have to pay for your own legal fees on top of that. We do not charge any commission, and pay for your legal and valuation fees as well.
• We are completely confidential
There is no need for anybody to know that you are selling your home. Unlike a traditional estate agent, we don't need to advertise your property publicly and you don't have the hassle of lots of viewings of your property – in fact, the only visit you will have will be for valuation and documentation purposes.
• We have flexibility
You'll often find that estate agents won't take on certain types of property, or sell properties in certain areas. Our service, on the other hand, is much more flexible with regard to types of properties and locations. We buy anywhere: cash for houses UK, England, Scotland or Wales.

Get the funds you need fast via House-Quick-Sell®
What actual customers are saying...

"Straight talking, straight dealing", "Very good, very professional"
-Mr J, Wigan

"We are very pleased with the service that we've have had", "it's just taken about 3 weeks"
-Mrs Phillipa, Cheshire
Watch actual private sale video testimonials
We have helped over 3000 house owners in the UK

We have nearly two decades of property buying expertise

Our service is risk free - (Free valuation and Quote)

The whole process can be completed within 7 days, from initial contact to sale of the property.
How do I get started?
Take the first step in getting cash for houses by completing the form or calling one of our advisors free on 0800 0845 025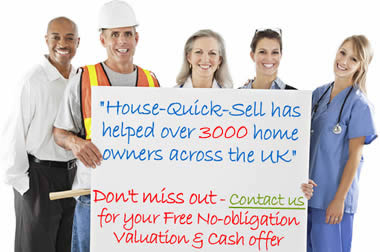 Get your Free Cash offer now

Your information is 100% confidential
P.S. Don't forget if you don't like our offer you can simply walk away!

It's a 100% No-obligation offer
You get an Immediate decision
Get a Free house valuation from an expert