Choose the right Cash Property Buyers
Cash property buyers are thin on the ground right now, for what should be fairly obvious reasons. There aren't many people with spare cash floating about, and the lucky few who do have the means to buy property for cash can afford to be picky
3 important benefits for you :

We guarantee a Cash offer
Free valuation & we buy in Any condition/location

Quickly & Stress free
Sell within 7 days - Exchange in 24 hours!

100% Fee free
We take no commission and pay the legal fee's


Your information is 100% confidential
These services compete with With a huge choice of houses available from sellers who are sometimes desperate to move, they tend to go for the best presented houses in the best locations. Those sellers who aren't fortunate enough to be in a desirable location, or who don't have a well maintained or modernised house often lose out, through no fault of their own.
There's always genuine alternatives...
You may have heard of "sell my house for cash" services that pay cash for the purchase of houses such as House Quick Sell. They are filling the space that individual cash property buyers used to occupy. They fulfil the same role, though as companies rather than individuals they have a few advantages such as being able to buy more than one property at a time and not needing to be too fussy about what they buy.
You would want to choose established Cash buyers...
To start with the company itself, HQS was actually set up back in 1993, so it's got an excellent track record and has made over 3,000 cash purchases for homes since then. That's an enviable background, particularly since many of its so-called competitors are either no longer around or have only been created in the last couple of years. HQS prides itself on the excellent service that it offers its customers, and makes no bones about the fact if you want to stay in the house purchase business for nearly two decades you have to treat people fairly and decently. That means doing things how the customer wants them, working to their timescales and taking into account their needs at every step of the way.
Who ain't too picky...
I mentioned earlier that they aren't picky about what sort of properties they buy. That's absolutely the case, and it's worth stressing that they will take on anything regardless of whether it is a sparkly new build or a rundown house that hasn't seen a paintbrush for years. On top of that, they aren't worried about the general area either and will take any UK property, whether it's in the most popular neighbourhoods or those which struggle to attract buyers.
Who can complete fast and on time...
Traditionally, one of the major advantages of a cash buyer is the speed they move. They view the property, make an offer, and if that's accepted then the deal is done. That's the same principal that HQS works on, but improves the experience in favour of the seller. First, they can give you an assessment of the property's value right away, and if you decide to proceed they can have a chartered surveyor provide a market valuation within a day or two.
Who actually buy the property themselves and are not acting as middlemen...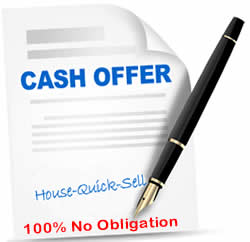 This means you'll get your offer instantly, which is a vast improvement on the usual process. Second, they can actually complete the deal in as little as a week, and three weeks is about the average. That's much faster than any other method, because they don't insist on legal searches that lenders have to do and which can take weeks to complete. In addition, they'll guarantee their offer and put it in writing, and you'd have a hard time getting a lot of buyers to do that. It's a binding offer, so they will pay you what you promise and won't reduce the offer at the last minute because they know you aren't in a position to refuse.
So, if you have a need to get cash for your property, HQS should be right at the top of your list of companies to contact. Their heritage as nationwide property buyers, background and approach to doing business gives them a formidable reputation, as their customers will agree, so why don't you give them a chance to prove they really are the best of the cash property buyers?

HQS buys the house with their OWN cash
Unlike 95% so called "cash buyers", HQS actually buys with their cash and is not acting as a middle man to investors. Because of this the sale is truely secure - Why not contact us now for your free offer, theres nothing to lose!

Get the Cash you need Fast through House-Quick-Sell®
What actual customers are saying...

"Straight talking, straight dealing", "Very good, very professional"
-Mr J, Wigan
Watch actual private sale video testimonials
We have helped over 3000 house owners in the UK

Our service is risk free - (Free valuation and Quote)

The whole process can be completed within 7 days, from initial contact to sale of the property.
How do I get started?
Take the first step in getting cash for houses by completing the form or calling one of our advisors free on 0800 0845 025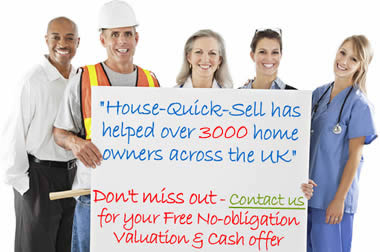 Get your Free Cash offer now

Your information is 100% confidential
P.S. Don't forget if you don't like our offer you can simply walk away!

It's a 100% No-obligation offer
You get an Immediate decision
Get a Free house valuation from an expert