UK House prices to drop further?
3 important benefits for you :

We guarantee a Cash offer
Free valuation & we buy in Any condition/location

Quickly & Stress free
Sell within 7 days - Exchange in 24 hours!

100% Fee free
We take no commission and pay the legal fee's


Your information is 100% confidential
Head of the Nationwide reports property prices may fall as much as 25%!
Also predicted was the peak to bottom trough fall in prices will reach a massive 25%, this is a huge difference and will definitely affect a very large number of house owners.
Are you a house owner whose wondering "should sell my property quickly?", according to leading UK experts now might be the right time to sell with UK House prices to drop further predicted.
As far as Building society's go the Nationwide Building Society is easily the UK's largest and so is in a very good position to predict and comment on the state of the market.
Statistics indicate that the Nationwide supply around 10% of all the mortgages in the UK (excluding all of Ireland).
Mr Beale, the head of Nationwide said has said he does not expect the UK housing market to show any signs of recovery till maybe....2010.
"I think we are into 2010 [before we see signs of recovery]," Mr Beale said.
Bad news for house owners who are already struggling
Nationwide's above prediction means that about 2.5 million homeowners could be put into negative equity, many organisations are all hoping some real, serious relief measures can be implemented by the government as soon as possible!
What about the future?
Right now, from a purely price point of view properties in the UK are at their most affordable in decades.
General predictions indicate UK House prices not to drop in 2012 and start rising again (slowly) in 2013. The big question really is when significant and sustainable increases will be seen.

Sell before further drops in house pirces, House-Quick-Sell® can buy your house quickly, fairly and hassle free
What actual customers are saying...

"It was very good, got the information straight away and it went through very quickly"
-Mrs Anne, Milton keynes

"Straight talking, straight dealing", "Very good, very professional"
-Mr J, Wigan
Watch actual private sale video testimonials
18 years of home buying experience

National UK specialists at buying houses - having helped over 3000 home owners across the UK
How do I get started?
The first step in the process is to make get in touch with our team by completing the form or calling free on 0800 0845 025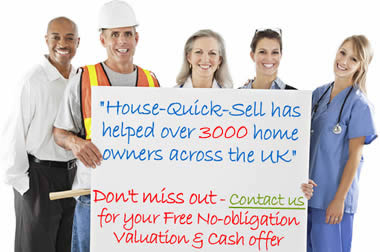 Get your Free Cash offer now

Your information is 100% confidential
Take the next step - complete the form above or call Free anytime on 0800 0845 025
P.S. Don't forget if you don't like our offer you can simply walk away!

It's a 100% No-obligation offer
You get an Immediate decision
Get a Free house valuation from an expert