House Quick Sale Review - how they buy within days
You've seen the adverts in the newspapers and on TV, you've got the idea of a house quick sale on your mind and you're interested in finding out more about what House Quick Sell can offer you. If so, that's what this page is going to be about, and you'll be disappointed if you've come here expecting something different.
3 important benefits for you :

We guarantee a Cash offer
Free valuation & we buy in Any condition/location

Quickly & Stress free
Sell within 7 days - Exchange in 24 hours!

100% Fee free
We take no commission and pay the legal fee's


Your information is 100% confidential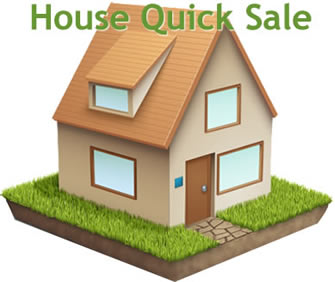 Look No further for a legitimate house buying company
I'll be telling you about the background HQS, this House Quick Sale review (often known as House Quick Sell) will explain what it can do for you, and how it all works, so if you are here looking for cup cake recipes I'd leave right now, if I were you.
Still here? Good. So who are HQS? Well, we are a company who buy houses, and we have over twenty years experience in doing it. We weren't just set up overnight to take advantage of the recent financial crisis, we've been doing it a long time and we take the view that we'd rather help people out than take advantage of their situation. We know from our feedback that our customers like the way they are treated, that we're open and honest with them, and that we try to find a solution for their house selling problems that suits both them and us.
We've made the buying and selling process as easy as possible for our customers.
For example, you can contact us using our web form or over the phone, so unlike a traditional estate agent you don't need to come into our offices to discuss selling. Both the web form and the phone process keep the questions (and the time it takes) to a minimum, so you can provide the basic information we need, like the location and type of house you have, its estimated value, condition and one or two other things.
We also cut out the middleman.
That means that when we tell you we will buy your house, we mean it. We aren't waiting for a buyer to turn up, like some other companies, and we don't need to raise money through a mortgage as we have cash funds available for purchases. The location and condition of your property doesn't matter, we'll buy anything you want to sell, and we will make a solid offer soon after assessing your house so there won't be any haggling over the price at the last minute. The offers we make are fair, reflecting the fact that it will be a cash sale, but on the other hand you won't be paying any commission or advertising fees (and as a matter of fact, we'll also pay your legal fees if you use a solicitor from our panel) so overall it will work out very close to what you'll get by selling via traditional channels like estate agents.
Our process is extremely private and discrete
Many of our customers also like the fact that our sales process is discrete. You won't have any 'For Sale' boards going up outside your house, for example, and there won't be people up and down the path every five minutes for viewings. We will only need one visit from our surveyor, so that the value of the property can be assessed, and after that everything can be done by email, post or telephone. Nobody needs to know you are selling, unless you tell them.
We are true cash buyers with our own funds
Finally, the fact we deal in cash really does mean a quick house sale in comparison to other ways of selling. Our funding is already in place, so there's no delay there, and that also means we don't have to carry out the legal searches (which typically take several weeks) that are required by traditional lenders. If you need us to, we can do complete the sale in just 7 days, and that includes stopping any repossession processes that may be underway.

What actual customers are saying...

"Straight talking, straight dealing", "Very good, very professional"
-Mr J, Wigan
Watch actual private sale video testimonials
House-Quick-Sale® is an established and trusted UK house buying company
The company has assisted thousands of home owners over the years

With over two decades of property buying experience
Get started selling your house now
Take the first step by completing the form or calling one of our friendly consultants free on 0800 0845 025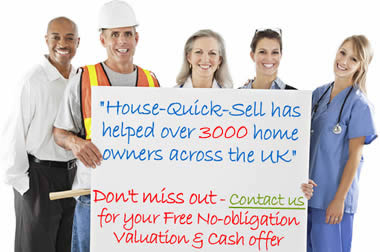 Get your Free Cash offer now

Your information is 100% confidential

It's a 100% No-obligation offer
You get an Immediate decision
Get a Free house valuation from an expert