House-Quick-Sell Reviews
3 important benefits for you :

We guarantee a Cash offer
Free valuation & we buy in Any condition/location

Quickly & Stress free
Sell within 7 days - Exchange in 24 hours!

100% Fee free
We take no commission and pay the legal fee's


Your information is 100% confidential
A Review of the website and the companies property buying process.
In this article I'll review my experience of the website and mention the key features you can find on the site. Think of it as a little guide to the site, and you won't go far wrong.
When starting out
To start with, you'll probably land on the HQS home page unless you've entered some very specific search terms, and that's a good thing as this is where it all begins. When the page loads, you'll notice that all the important stuff is right in front of you and easy to pick out – the main selling points of the company, a phone number and an enquiry form, and a video introduction from Maverine Cole. There are also a couple of quotes from satisfied customers, so really all the information you need is right there even if you don't go any further. Scroll down the page, though, and you'll see there is a lot to it. There is further detail on how the cash selling process works, a video testimonial from a customer and links to other parts of the site that you might find useful, so it's worth a look if haven't already made up your mind to contact them.
Navigating around the website
Moving on from the landing page, the tabs at the top of the screen each take you into a different area. The first is the 'About' tab, which isn't the dry, boring legal stuff you usually find – it's a true reflection of who the company is and what they do. The next tab over is a quick reference table showing the benefits of selling this way when compared to a traditional estate agent route, and as well as being easy to read is jammed full of useful points that you might not have considered before. One more tab to the right is 'How It Works', which again gives you a useful little guide, this time explaining the sales process itself.
Find out more about HQS's customers
If you need some 'true life' stories to get a feel for real people who have used the site, then the 'Testimonials page should be right up your street, as it were. You can watch real customers House Quick Sale reviews via the video links or read a couple of fairly recent letters from happy sellers as well as some choice quotes from a number of other clients. Having read all the site so far, you've probably got a few question, so fortunately there is 'FAQ' tab too which aims to answer all your queries and provides an email link for you to ask about anything that isn't already covered.
Getting in touch with HQS
The 'contact' tab does what it says on the label, and provides you with the means to contact the company, although you'll probably have seen it all elsewhere on the site before. The page also has a bit more useful information, but you'll have to scroll down for it, and once you do you'll find some more detail about how valuations are calculated. This page also contains the 'Official Promise' link which allows you to download (and save, if you wish) the company charter which outlines the standards you can expect them to meet as part of their obligations to you, the seller.
A Free cash offer and Quote
The 'Free Cash Offer' tab repeats the benefits of selling for cash table seen earlier, but then goes on to talk about some of the benefits in much more detail. It's a useful little page and well worth a read if you haven't quite made your mind up yet.
House selling guides and advice
Finally, the 'Selling Guides' tab does a lot more than the name implies. It contains links to a number of articles that customers might find useful, ranging from tips on selling your house to how to spot dodgy firms and advice on repossession. It's all there to provide as much information to the customer as possible, and it does its job effectively. This page also contains a site map, which allows you to return to any other page or section of the website, links to case studies, and further resources for property and financial news.
That's it for this House Quick Sell review, except to say that all the pages contain the basic details you'll want, like the phone number and quote request form, so you don't need to worry about having to find it again once you've made your mind up.

What actual customers are saying...

"Straight talking, straight dealing", "Very good, very professional"
-Mr J, Wigan
Watch actual private sale video testimonials
House-Quick-Sell® is an established and trusted UK house buying company
HQS has helped thousands of home owners over the years

Over 20 years of property buying experience
Get started selling your house
Take the first step by completing the form or calling one of our friendly consultants free on 0800 0845 025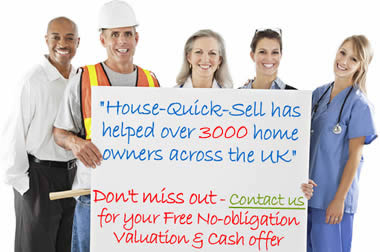 Get your Free Cash offer now

Your information is 100% confidential

It's a 100% No-obligation offer
You get an Immediate decision
Get a Free house valuation from an expert