Selling a House Process Explained in 9 Easy steps
Whether the home you live in right now is the first one you have bought or if you have sold a house before, chances are that you've got a few questions about the house selling process. With the market changing all the time this article aims to help make the process of selling a house as easy as possible for you.
3 important benefits for you :

We guarantee a Cash offer
Free valuation & we buy in Any condition/location

Quickly & Stress free
Sell within 7 days - Exchange in 24 hours!

100% Fee free
We take no commission and pay the legal fee's


Your information is 100% confidential


1. Find out how much your home is worth.
Look online, in your local paper and in your estate agents for the prices of homes similar to yours to give you a rough idea. Choose a handful of estate agents and ask them to value your property formally, then check your budget and work out what you can afford to actually sell it for.
2. Choose an estate agent.
There's more to this than just picking the one that gives you the highest valuation, so think carefully before you commit. You'll need to consider what fees each one charges (and they can range from 1 to 4%), what you've heard from friends and family about their experiences, and which ones seem to have the most 'Sold' signs around. One tip on choosing is to think about which one you'd like to buy a house from – if you like them, it is likely that your potential purchasers will.
3. Get the house sorted out.
Remember that you are going to have people coming round to view the house, so present as well as you possibly can. Tidy it up to make it look like there is plenty of room, and fix any minor problems like dripping taps or peeling paintwork. If time and budget allow, decorate in neutral tones to make the house look fresh and clean.
4. Be patient.
Sometimes it takes a while, the chances on you will have to wait at least 2-4 weeks before you get any enquiries but you'll get a call from the estate agent at some point asking to arrange a viewing for potential buyers. Be flexible and try not to turn them down – these people want to buy your home and you need to make it as easy for them as possible.
5. Consider offers you get.
You might get offers that are lower than the asking price, but that's pretty normal – everybody wants to think they've found a bargain – and it will probably have been built into the asking price anyway. Don't accept offers that are below what you actually need from the sale once you've taken fees and estate agents commission into account, but don't be greedy either. The estate agent is legally obliged to pass all offers on to you, and will able to advise on whether they think the offer is reasonable or not, but the final decision must be yours. If you are happy with the offer, accept it to get the legal process moving. Buyers may ask you to take the property off the market at this point – it's up to you and there is no obligation to do so, but it's a gesture of good faith that is worth quite a bit in the house selling process.
6. Appoint a solicitor.
Once you accept an offer, the estate agent will want to send notice to both yours and your buyers solicitors, requesting that they draw up a draft contract.
7. Exchange contracts.
Once your solicitors have drawn up a contract, you'll be invited to 'exchange contracts'. This is where the sale becomes legally binding and the buyer will be expected to pay the agreed deposit, which is usually about 5%. You'll also have to agree a completion date, which is the date when the sale will be formally completed and ownership of the house will transfer from you to the buyer.
8. Get your move organised.
Get quotes from moving companies or arrange to do it all yourself, but make sure you are ready on the completion date. You need to have moved out completely on the day of completion, so get it all sorted beforehand.
9. Complete and move out to finish the process of selling a house.
If the buyers have got their funding sorted and the solicitors have done their job right, completion day will arrive and you'll hand over the keys for the property. In return you'll be paid the agreed price for the house, minus the 5% deposit you've already had.

10. What if you're struggling to sell your house via traditional methods like an estate agent?
House-Quick-Sell's quick house buying service is worth some serious consideration. With thousands of homeowners helped across the UK HQS is quickly becoming a mainstream alternative. For some homeowners it may be the only option that is still open but with a no risk obligation and quote vendors have nothing to lose by getting in touch for a free valuation and quote.

House-Quick-Sell® is the UK's No.1 Housebuying Company
What actual customers are saying...

"Straight talking, straight dealing", "Very good, very professional"
-Mr J, Wigan
Watch the actual private sale videos
We have years of home buying expertise (thousands of vendors helped in England, Scotland and Wales)
A service designed to take away the hassle and stress
Unlike other organisations we buy houses with our own funds and do not rely on on middlemen that would otherwise risk breaking the house selling chain.
Get started selling your home
Take the first step by completing the form below.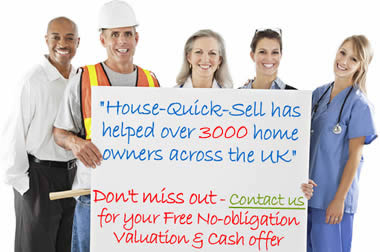 Get your Free Cash offer now

Your information is 100% confidential
P.S. Our service is no obligation so if you don't like our offer you can simply walk away!

It's a 100% No-obligation offer
You get an Immediate decision
Get a Free house valuation from an expert