How do I sell my house? Your options explained
Selling a house is one of those things that people tend to learn as they go along – until you've done it once or twice, you don't really think about what it entails. If you're in the early stages of thinking about selling this article will explain the 3 key methods available to you.
3 important benefits for you :

We guarantee a Cash offer
Free valuation & we buy in Any condition/location

Quickly & Stress free
Sell within 7 days - Exchange in 24 hours!

100% Fee free
We take no commission and pay the legal fee's


Your information is 100% confidential
1. Traditional Estate Agents
These are the ones that everybody thinks of first when they first ask themselves 'how do I sell my home?' They have the bricks and mortar offices that potential buyers can walk into, and they range from large national chains with branches in nearly every town to small local agents with just the one branch.
"Which ever one it is, the method will be the same"
They will take details and photographs of your property, and advertise in their shop where hopefully a potential buyer will see it and become interested, ultimately leading to a sale. You will be charged a fee for selling the property, and this will usually be a few percent of the sale price. You will also need to pay for solicitors fees when you sell, although of course you should only need to pay out once the property is actually sold. This way isn't usually the quickest either, if your'e intersted in how to sell your house quickly then read on.
2. Online Estate Agents
These are a sales channel that has become increasingly popular over the last few years, as moe and more people have got internet access in their homes. One of the huge benefits over traditional estate agents is that it opens up a property to many more potential buyers – casual browsers can see homes for sale in any area of the country, there is no need to visit all the estate agent offices in places they are interested in, and it's much easier to just stumble across their perfect property. This means it is usually quicker to find a buyer than with traditional methods.
"Like a traditional estate agent, you will still be charged a fee for advertising"
This will usually be lower than advertising with an office based agent, but you should budget for solicitors fees as well as these will be charged once the property is sold.
You have a few choices to make when it comes to thinking about 'how do I sell my house?' online. The main one is whether you want to the advertising to be handled by an estate agent, or whether you want to manage the online side of things yourself. There is absolutely nothing to stop you placing your own home for sale adverts with whichever online estate agent or agents you like, but you need to consider carefully the implications of your choice. Managing everything yourself will save you some money, but you need to be confident that you can write an advert that will sell your property and happy that it's you, not necessarily the estate agent, who will be arranging viewings and speaking to potential buyers.
3. Quick Cash Homebuyers
This method of selling a house has been around as long as people have wanted to buy and sell property, and is probably even older than estate agents themselves. It doesn't have the high profile of other methods though, and is often forgotten about when people are considering selling.
A sell house quick company needs to be seen as a cash buyer. They are unlikely to offer top rate for your property, and in facts it is quite likely that any offer will be below the asking price, but in some circumstances can still be a good deal for the seller. Firstly, companies buy your property directly from you, so there is no estate agent taking a cut of your payment, and there aren't usually any legal fees to pay either as the buyer will cover those.
Cash buyers are the fastest way to stop you asking "how to sell my house?!"
The transaction can be completed extremely quickly (it is almost certain to be faster than other methods) which is of immense benefit to some sellers. In most cases, you can expect the whole transaction to be completed in 10% of the time it would take to sell a property through the traditional method.
If you're interested in what a specialist homebuyer can do for you why not try House-Quick-Sell®, complete the 30 second cash offer form or call 0800 0845 025 now for a free consultation.

House-Quick-Sell® is an established company who can buy quickly and fairly
What actual customers are saying...

"It was very good, got the information straight away and it went through very quickly"
-Mrs Anne, Milton keynes

"Straight talking, straight dealing", "Very good, very professional"
-Mr J, Wigan
Watch unedited private house sale testimonials
Over 18 years of house buying experience

Peace of mind - We offer a genuine hassle & stress free upfront property buying service

Our no-obliation cash offer means there's no risk to you
Don't just take our word for it, read or watch actual video testimonials on the right or get in touch if you have further questions about our company.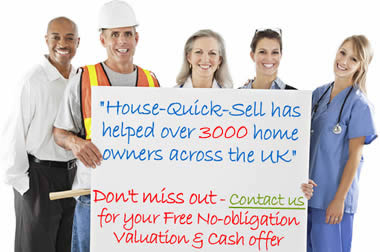 Get your Free Cash offer now

Your information is 100% confidential
P.S. Don't forget if you don't like our offer you can simply walk away!

It's a 100% No-obligation offer
You get an Immediate decision
Get a Free house valuation from an expert