HQSOffers - An Offer for your House in 24 hours
You're probably here because you've seen the advert for HQS offers and it's got your attention. You probably want to know a bit more about the sell my house quick service HQS provides, how it all works and what whether the claims in the advert are true. We will recap the main points and give a bit more detail behind the promises.
3 important benefits for you :

We guarantee a Cash offer
Free valuation & we buy in Any condition/location

Quickly & Stress free
Sell within 7 days - Exchange in 24 hours!

100% Fee free
We take no commission and pay the legal fee's


Your information is 100% confidential

Why it's worth getting your Free, Instant Cash offer from House Quick Sell
1. We buy regardless of market conditions
Spot on, we do. We aren't one of those companies which needs to turn over properties to another buyer quickly. You know, the ones who'll only buy from you once they've got a buyer lined up. In the current market that approach doesn't work, and as you've doubtless discovered that there are precious few buyers out there at the moment. Unlike normal buyers we don't need to get a mortgage first either, so while banks are cutting back and refusing to lend to them we are already sorted with funds waiting to be used.
2. We buy regardless of location
That's right. We don't mind if you are in a city centre or a remote hillside in the middle of nowhere. We don't even mind if the property is located in an area that is suffering badly from the downturn and isn't very popular with house hunters. As long as you are somewhere in England, Wales or Scotland, we'll buy your property from you.
3. We buy regardless of property condition
Correct. Ordinary buyers can be choosy at the moment, as so many people want to sell that a buyer can be picky about finding a house that is in perfect condition. We understand many people may not have been able to keep their property maintained as well as they'd like, especially in the current climate where money is often tight. That's fine, we'll still buy it. Obviously a property in 'as new' condition will get a better price than one which isn't, but you'll find that true of whoever is buying.
4. We make guaranteed offers
Exactly. HQSoffers quotes are guaranteed. Unlike a normal buyer, we won't back out at the last minute or decide that we want to pay a lower price. There won't be any of the usual haggling or pressure – we make an offer, and that stands right through until completion.
5. We don't charge any fees
This one is just a bonus for you. In addition to all the other features, we don't charge you for the valuation, we don't take a commission payment on the sale (you just try getting an estate agent to agree to that!) and we even pay your legal fees. So, unlike an offer from a normal buyer, there won't be anything to deduct from it once the sale goes through – you'll get every penny.
6. We guarantee a Cash payment
The money is yours on the day of completion. We don't mess sellers around by presenting them with a cheque or a bankers draft, which they then have to pay into a bank account. Our payments are in cash and the money is yours the second the sale is completed. It's then up to you what you do with it.
7. Our Cash Offer service is 100% No obligation. If you don't like your offer, simply walk away!
Now that you have seen everything that we've done for our [previous customers, why not make contact and see what hqs offers you? Give us a call and speak to our advisors, or fill in the web form with your property details. Either way we'll be able to start the process off and help you get on the road to selling your property. If you have questions or want anything we've said here explaining more clearly, then feel free to contact us too, or just have a browse around the hsqoffers.com website.

What actual customers are saying...

"Straight talking, straight dealing", "Very good, very professional"
-Mr J, Wigan
Watch actual private sale video testimonials
House-Quick-Sell® is a Reputable and Established Homebuyer
Have now helped thousands of home owners over the years

With over 20 years of property buying experience

Offering a true no risk and no pressure service (free no obligation offer and valuation).
Get started selling your house
Take the first step by completing the form or calling one of our friendly consultants free on 0800 0845 025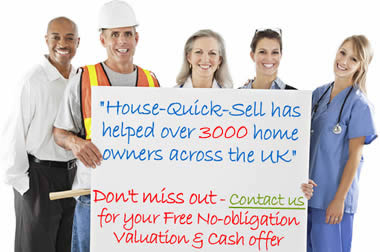 Get your Free Cash offer now

Your information is 100% confidential

It's a 100% No-obligation offer
You get an Immediate decision
Get a Free house valuation from an expert