House selling Legal & Valuation fees paid
3 important benefits for you :

We guarantee a Cash offer
Free valuation & we buy in Any condition/location

Quickly & Stress free
Sell within 7 days - Exchange in 24 hours!

100% Fee free
We take no commission and pay the legal fee's


Your information is 100% confidential
House selling fees and other costs can often be ignored in the selling process as everyone is usually focused on the sale price!
At House-Quick-Sell®, we will not charge any type of upfront fees or any valuation fee and we also pay your legal fees up to £500 when using your own or our recommended solicitor.
We believe trust is very important when dealing with our customers and promise there are no hidden charges or surprises at any point throughout the entire process.
See the table below for a list of fee savings for a typical final offer on a £100k house:
| | | |
| --- | --- | --- |
| | Estate Agent Sale | House-Quick-Sell® |
| Realistic RICS Valuation | About 10% below asking price -£10,000 | We only work with a RIC's valuation in mind |
| A typical offer from a buyer | About 4.7% below asking price -£4,700 | Our offer will vary depending on your situation* |
| Current mortgage payments | Traditional sales take around 6 months, meaning you must pay on-going mortgage payments over this time. -£3,000 | We can complete quickly, requiring you to only pay the current mortgage payment |
| Typical Solicitor Costs | Traditional sales require legals fees -£1000 | We will pay for your legal fees. |
| Estate agent and other fees | Estate agent fees of about 2% + vat -£2,400 | We do not charge any commission |
| Typical Removal Expenses | -£1,000 | We do not charge any commission |
| Property Insurance | -£150 | No insurance is required as we arrange this |
| Repairs and Maintenance | -£2000 | No need to worry about these if selling to HQS |
| Total reductions | -£24,250 | |
| Actual payment to You | 76.0% of the estate agent's original valuation £75,750 | Our actual offer varies depending on the situation* |
*Complete our no-obligation valuation & cash offer form to see what we can offer for your property.
Our example is based on an Estate agent taking 6 months to find you a non cash buyer.
When using House Quick Sell, you can expect to save at least 6 months of mortgage payments compared to selling through an estate agent.
No home information pack will be necessary
No property insurance is required as this is arranged and paid by our company.
No repairs or maintenance to worry about when you sell to HQS.
Besides the savings on house selling fees, our service provides other less obvious savings such as saving money on unwanted future mortgage payments by completing very quickly. Stop wondering how to sell my house quickly; Get started with your no obligation consultation to see how our service can produce a solution that works for all parties.

House-Quick-Sell® will save you money on fees whilst buying your house quickly, fairly and hassle free
What actual customers are saying...

"It was very good, got the information straight away and it went through very quickly"
-Mrs Anne, Milton keynes

"Straight talking, straight dealing", "Very good, very professional"
-Mr J, Wigan

"We are very pleased with the service that we've have had", "it's just taken about 3 weeks"
-Mrs Phillipa, Cheshire
Watch actual private sale video testimonials
With over 18 years of property buying experience

National UK experts at buying houses - we have helped over 3000 home owners across the UK

Peace of mind - We offer a genuine hassle & stress free upfront property buying service
Our transactions are fast and very convenient. The whole process can be completed within 7 days, from initial contact to sale of the property. In addition all house selling legal fees will be paid by us.
How do I get started?
The first step in the process is to make get in touch with our team by completing the form or calling free on 0800 0845 025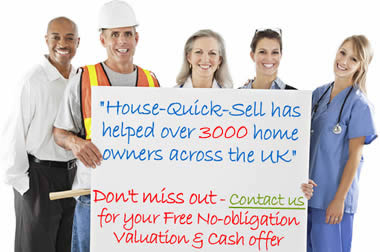 Get your Free Cash offer now

Your information is 100% confidential
P.S. Don't forget if you don't like our offer you can simply walk away!

It's a 100% No-obligation offer
You get an Immediate decision
Get a Free house valuation from an expert