As national home buyers we offer a reputable nationwide service
3 important benefits for you :

We guarantee a Cash offer
Free valuation & we buy in Any condition/location

Quickly & Stress free
Sell within 7 days - Exchange in 24 hours!

100% Fee free
We take no commission and pay the legal fee's


Your information is 100% confidential
House Quick Sell, or HQS as we'll refer to it on this page are genuine, established national home buyers. That is to say, they cover the whole of England, Scotland and Wales and they buy homes and property. If you are looking to sell, for whatever reason, then read on to find out a bit more about HQS and how they work as UK homebuyers.
The company's background
HQS has been around for a few years now, and it has always specialised in buying houses for cash. Unlike some other adverts you might have seen, we're not an investment group or an umbrella for a few different organisations, we're a straightforward company where what you see is what you get.
With over 18 years of property buying experience

National UK experts at buying houses - having helped over 3000 home owners across the UK

Peace of mind - Offering a genuine hassle & stress free upfront home buying service
We like to think we've refined the sales process over the last few years, to the point where the seller doesn't have to do much more than contact us. We don't trawl adverts in estate agents or on websites, so we don't do any cold calling – we know how people don't like to be pestered, so we don't do it.

6 features that set HQS apart
If you are considering selling your property to a national property buying company, then ask yourself, or better still them, if they can meet the following criteria. HQS can, and we think you'll have to look very hard to beat us, but don't take our word for it, check it out for yourself.

1. Excellent Service
What actual customers are saying...

"It was very good, got the information straight away and it went through very quickly"
-Mrs Anne, Milton keynes

"Straight talking, straight dealing", "Very good, very professional"
-Mr J, Wigan

"We are very pleased with the service that we've have had", "it's just taken about 3 weeks"
-Mrs Phillipa, Cheshire
Watch actual private sale video testimonials
HQS prides itself on service. As one of several national house buyers, we have competitors who'd be only too happy for us to get things wrong, not to mention the affect it would have on our customers, so we make sure we don't. When we make an appointment to view your property, we turn up at the time agreed, and that will always be when it suits you.
2. Fair Valuations
HQS won't give you a valuation you'll never achieve, unlike estate agents who often build in their commission, the expectation that buyers will haggle and reduce the price, and fees etc. When we value your property and make you an offer, it will be realistic. It will also be fair. We know that you don't want to be virtually giving the property away, and in any case you probably have plans for the money raised and have a certain amount that you need to get. We don't take advantage of your situation and want to offer a realistic price so that we both get what we want from the deal. At the end of the day the actual value will be determined by an independant RIC's valuer, we will always go by that valuation.
3. Fast Sales
HQS prides itself on the speed of its service (as expected from leading nationwide home buyers). While we are happy to wait until you are ready to sell if that's what you want, we are also practiced at moving extremely quickly. We know that the traditional way of selling can be painfully slow, but our process gets rid of all the hassle and, if you want us to, we can complete the sale within 7 days of you first contacting us.
4. Zero Fees
That's right, you read it correctly first time. We don't charge sellers anything. We pay for all the legal fees. There is no commission, no valuation fee, not even a money transfer fee. We pick it all up. After all, why should you be expected to pay for all the work when we are buying from you?
5. Confidential
One of the things that prospective sellers worry about is confidentiality. This is especially true when people have to sell through financial or marital difficulties, and they'd like to keep things quiet until the sale is agreed. That's no problem for us – unlike estate agents, we don't need to put up a 'for sale' sign or place an advert anywhere. The only visitor to your property will be our valuer, so you won't have lots of unusual visitors that could tip friends and neighbours off about what is happening.
6. No Risk to you
Our cash offer and estimate is 100% free and unlike other companies, we even pay for the official RIC's valuation fee

How it works - 3 Easy Steps
1) Get in touch >>

2) Cash offer >>

3) Sale!

Get started by completing the cash offer form or call free anytime on 0800 0845 025

A property advisor will call you within 24 hours to discuss your situation
and offer you a Free no obligation valuation & cash offer
If you are happy with the offer we will start the valuation process and exchange within days or whatever timescales that best suit you
Our official promise as national home buyer (UK)

Our customer service standards are very important to us, we buy houses UK so have put together our official promise on delivering the best possible service.
Our promise is designed to give you the peace of mind and make the benefits of our customer service standards clear, click to read the full charter.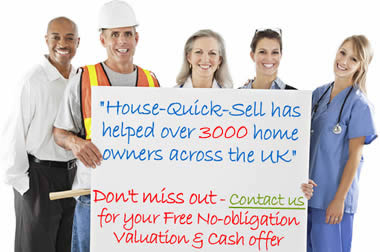 Get your Free Cash offer now

Your information is 100% confidential
P.S. Don't forget if you don't like our offer you can simply walk away!

It's a 100% No-obligation offer
You get an Immediate decision
Get a Free house valuation from an expert