Houses bought for cash in 7 days
There are services out there that claim to have the best houses bought for cash deals. More importantly for House-Qick-Sell®, our customers actually tend to have the same view about our service. Always wondering how to "sell my house for cash?" then you're at the right page. We're going to walk you through a scenario that might seem familiar to some of you, and explain some of real benefits you can obtain by selling to HQS.
3 important benefits for you :

We guarantee a Cash offer
Free valuation & we buy in Any condition/location

Quickly & Stress free
Sell within 7 days - Exchange in 24 hours!

100% Fee free
We take no commission and pay the legal fee's


Your information is 100% confidential
Putting things into perpective with a typical scenario
Are You Sitting Comfortably?
Then we'll begin. Imagine, if you will, Mr & Mrs Smith in their comfortable house, with their children, and maybe a dog if that's your thing. It's your story, so imagine it however you like. Mr & Mrs Smith have had their house up for sale for the last year, because they want to move a different area – one with a better school for the kids, perhaps, or closer to grandparents. They've found a house they like and are all set to buy it, and everyone in the chain is ready to go.
At the last minute, though, their buyer pulls out. Mr and Mrs Smith don't want the chain to collapse, and they really don't want to lose out on buying the new house, so who do they turn to? Selling through an estate agent would take too long, so they investigate companies who offer 'houses bought for cash'.
One of these companies is HQS, and they contact them and explain the situation. HQS just ask for a few details about the property, including its location, value, and general condition, and then arrange for a valuer to come out in the next few days.
Once the valuer has made his visit and confirmed what the house is worth, Mr & Mrs Smith receive their property bought for cash offer. This is a little bit less than they were expecting to get, but when they looked at the details of the offer they realised it was quite a good deal. If they had sold through the estate agent, they would have lost some of the money through commission, and would have had to pay legal fees on top of that.
HQS does not charge any commission, and pays the legal fees of both parties. Mr and Mrs Smith also realised that the amount that they were getting was enough to let them move to the new property, and that this was worth much more to them than getting the full value of their property, especially as they had already waited so long to try and sell it. They also felt worried that property prices would fall even more before they found another buyer, making a bad situation even worse.
By selling to HQS, though, the sale could be completed in only a few days and there would be no delay or upset to the chain at all, not to mention they'd know for sure they were still getting a decent price. So, by contacting HQS and arranging the sale, they could turn a nightmare into a fairytale ending.
Does That Sound Familiar?
Is that scenario something you recognise? Maybe you want to sell your house for a different reason, like financial difficulties, avoiding repossession, cutting down your investment exposure, or any of a dozen other reasons.
Whatever the reason is, HQS can help you out. We don't mind why you are selling (it's your business, not theirs), where the property is located, the condition of it, or any of the other things that would usually prevent a buyer from considering your property. We're even discreet about it, with no need for 'for sale' signs to be put up or adverts taken out in newspapers and websites.
All you have to do is make the first step, which is to call 0800 0845 025 or complete the form. Either way we will be pleased to advise you on the process, give you some more detail on what your options are, and help you decide whether to selling to HQS is the right decision for all parties involved. Hopefully, having taken the time to make contact, you'll realise that HQs really does offer the best deals on houses bought for cash.
Some big benefits of selling for cash via House-Quick-Sell®
• Unlike 95% of other so called "cash buyers" we buy with our own cash and don't rely on investors
• The house sale is guaranteed
• Quick completion (with an instant 24 cash offer)
• We pay legal fees & valuation fees
• We take care of everything with minimum hassle to you
• 100% confidentiality
• Flexibility to suit your needs - complete when you need to.

What actual customers are saying...

"It was very good, got the information straight away and it went through very quickly"
-Mrs Anne, Milton keynes
Watch actual private sale video testimonials
House-Quick-Sell® - The leading UK homebuyer
We have two decades of house buying experience

Many Homes bought fast across the UK (we have helped over 3000 homeowners)

No risk service offering a no obligation valuation and cash offer
How do I get started?
Take the first step in getting cash for houses by completing the form or calling one of our advisors free on 0800 0845 025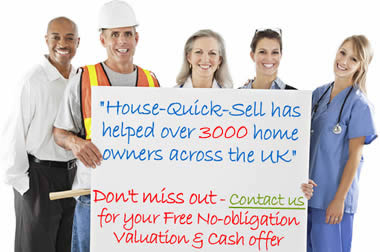 Get your Free Cash offer now

Your information is 100% confidential
P.S. Don't forget if you don't like our offer you can simply walk away!

It's a 100% No-obligation offer
You get an Immediate decision
Get a Free house valuation from an expert