Get Real Estate Savvy To Sell your House Fast
3 important benefits for you :

We guarantee a Cash offer
Free valuation & we buy in Any condition/location

Quickly & Stress free
Sell within 7 days - Exchange in 24 hours!

100% Fee free
We take no commission and pay the legal fee's


Your information is 100% confidential
Real estate is big business, or at least it used to be until the recession bit. The numbers of buyers fell through the floor, and suddenly people were struggling to sell their homes. The fact that there aren't buyers around doesn't mean that people can just decide not to sell properties, and many people still need to sell house quickly. So, with the regular real estate buyers out of the picture, where do you turn?
Luckily, there are still legitimate alternative options
Well, one major and very realistic alternative is a real estate buying company. These have stepped into the gap left by the sharp exit of the traditional buyers who used to make up the bulk of the market. They are dedicated companies who are able to offer everything that traditional buyers can, with bells on.
One of the more established companies, having been trading for around 18 years, is House Quick Sell or HQS for short. They've built a reputation on being a good company to do business with, honest and reliable, but what exactly can they offer you if you need a real estate buying company? Take a look at the list below, and see how each point improves on the traditional method of selling
Guaranteed Sale
How many times have you heard horror stories about chains collapsing and sales falling through because someone has pulled out at the last minute? Quite a few, I reckon. Yet with HQS, they guarantee that they will buy your property from you. The only requirement they have is that the property is in England, Scotland or Wales. That's it. They won't walk away because the property isn't in good condition, or because it's a in a remote, unpopular or just unusual area.
Guaranteed Price
HQS give you a price, and they stick to it once they've done it. There won't be any last minute haggling, threats to pull out, or sudden 'discoveries' that make the property worth less than they thought. The price quoted is the price you get for the property, and as an added bonus there's nothing to come off the payment – unlike an estate agent sale, there is no commission to pay and, what's more, you'll get a few more pounds back in your pocket as they'll also pick up your legal fees.
Fast Turnaround
The average property is on the market for several months before being sold when an estate agent is involved. The average turnaround time for a sale to HQS is measured in weeks, not months, and if the circumstances demand it can be reduced to a matter of days. If you need a fast sale, there's no way you'll beat it through any other sales channel.
Legitimate real estate buying company
One of the worst things about selling a property is the hassle and messing about that goes with it. You've got viewings to sort out, visitors to speak to, and all while trying to manage your daily routine. If you're lucky, you'll only have a few viewings before the property sells, but that is fairly unlikely these days and you might have twenty viewings before someone is seriously interested. If you go with quick real estate buyers like HQS, on the other hand, all you have to arrange is one single visit for them to value the property. It's discrete, and there won't be any 'For Sale' signs up either, so you can keep your business to yourself without having to think up some elaborate explanation for all the people visiting your home.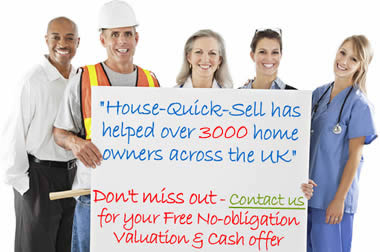 Get your Free Cash offer now

Your information is 100% confidential

It's a 100% No-obligation offer
You get an Immediate decision
Get a Free house valuation from an expert