Made redundant and need to sell your property?
3 important benefits for you :

We guarantee a Cash offer
Free valuation & we buy in Any condition/location

Quickly & Stress free
Sell within 7 days - Exchange in 24 hours!

100% Fee free
We take no commission and pay the legal fee's


Your information is 100% confidential
Unfortunately in today's job market the rate of redundancy has been on the up for several years. If you have been made redundant then you may be struggling to keep up with mortgage payments or other bills.
To avoid repossession or other charges, selling your house can definitely be a viable option. With interest rates predicted to rise soon moving quicker is the advised option of you are on a flexible rate mortgage.
This can be a stressful time and the last thing you want is to have that uncertainty of selling through an estate agent. How can you ensure you sell quickly and at a fair price without all the hassle of a long typical sale?
Luckily, HQS can meet all of the above requirements and more. We will tailor make the solution to fit in with your personal circumstances. Quit wondering if you will ever sell my house fast by calling HQS on 0800 0845 025 or complete the form for your free on obligation cash offer and valuation.

Struggling with payments and need a solution? Avoid further stress after being made redundant by selling your house to HQS quickly and at a fair price
What actual customers are saying...

"It was very good, got the information straight away and it went through very quickly"
-Mrs Anne, Milton keynes

"Straight talking, straight dealing", "Very good, very professional"
-Mr J, Wigan
Watch actual private sale video testimonials
Our company has over 18 years of property buying expertise

We have helped over 3000 home owners in the UK
How to get started?
Take the first step by completing the form or calling one of our advisors free on 0800 0845 025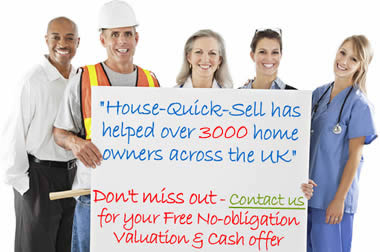 Get your Free Cash offer now

Your information is 100% confidential
Complete the form above or call Free anytime on 0800 0845 025
P.S. Don't forget if you don't like our offer you can simply walk away!

It's a 100% No-obligation offer
You get an Immediate decision
Get a Free house valuation from an expert