Quick sale lead referal scheme
3 important benefits for you :

We guarantee a Cash offer
Free valuation & we buy in Any condition/location

Quickly & Stress free
Sell within 7 days - Exchange in 24 hours!

100% Fee free
We take no commission and pay the legal fee's


Your information is 100% confidential
Earn £££'s in within a few weeks
HQS are here to help people who require a quick house sale with as little hassle as possible. People come across numerous individuals who can be potential House-Quick-Sell® customers.
So if you know anyone who needs to sell their house quickly, then refer us and you will earn a cool £500 per home owner who completes with us.
The House-Quick-Sell® service is aimed for people who:
Need to sell property fast for any reason
Found that new dream home and want to sell up quick
Inherited a property that they do not want to keep
Are facing repossession proceedings
Suffering a slow or broken chain
Have another problem with their property
Want to save money by not going through Estate Agents or other third parties.


Just let us know the contact
details and we will do the rest!
All we require is you contact us with the details of the lead and we will do the rest - we are confident we will not let you down! If you have come across any of the above then call us on 0800 0845 025 or email us at info@house-quick-sell.co.uk.
We currently pay £500 as introductory fee (payable on completion)
As we move quickly, you could be receiving your £500 within weeks!
House-Quick-Sell® will saves can buy houses quickly, fairly and hassle free
What actual customers are saying...

"Straight talking, straight dealing", "Very good, very professional"
-Mr J, Wigan
Watch actual private sale video testimonials
With over 18 years of property buying experience

National UK experts at buying houses - we have helped over 3000 home owners across the UK
How do I get started?
The first step in the process is to make get in touch with our team by completing the form or calling free on 0800 0845 025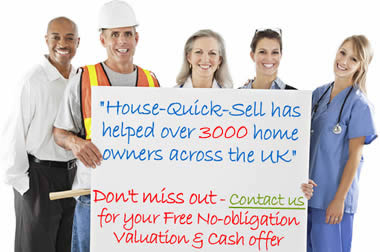 Get your Free Cash offer now

Your information is 100% confidential
P.S. Don't forget if you don't like our offer you can simply walk away!

It's a 100% No-obligation offer
You get an Immediate decision
Get a Free house valuation from an expert