Repossessed property on the rise: Can it be stopped?
3 important benefits for you :

We guarantee a Cash offer
Free valuation & we buy in Any condition/location

Quickly & Stress free
Sell within 7 days - Exchange in 24 hours!

100% Fee free
We take no commission and pay the legal fee's


Your information is 100% confidential
The number of UK people who are losing their home due to repossessions are on the up
The bank of England reports indicate that the property prices in the UK were declining faster than their UK counterparts. More and more home owners have been requesting house repossession advice.
The number of repossessions in the 2nd quarter of the year was 11,054, up 71% compared with a year earlier according to reports from reputable national bodies such as BBC Money.

Recently reports indicate repossessions are up by more than 70% compared to the same time last year. Unfortunately, the amount of mortgages going into arrears has been steadily going up.
Ofcourse all of these will not directly end up as official repossessed property, house owners have been urged to contact their bank/lender as soon as they find themselves struggling to make repayments.

Other data also indicates this trend in the UK property market. The amount of new home loans has decreased.
It's calculated that gross lending decreased by about 26% in the 2nd quarter of the year when comparing with the previous year.
It's reported that less new loans have been awarded to people who could only offer a deposit of 10% of the value of the property. This was down from a peak of 15% of new lending in early 2007 to 10% this time.
Looking to the future, there are more concerns with negative equity issus as banks such as the Halifax are expecting property prices to fall further, up to 2.5 million homeowners could get into the red and have negative equity.

If you are facing repossession and don't want to be another repossessed property statistic then why not give one of our friendly advisors a call or complete the form below. If you need to sell or move and are having issues, House-Quick-Sell® can help.

HQS is a cash homebuying specialist and can buy your house in just 7 days
What actual customers are saying...

"Straight talking, straight dealing", "Very good, very professional"
-Mr J, Wigan
Watch actual private sale video testimonials
We have over 18 years of property buying experience

We have helped over 3000 home owners across the UK

No risk service - Our valuation is 100% free
How do I get started?
Take the first step in getting cash for houses by completing the form or calling one of our advisors free on 0800 0845 025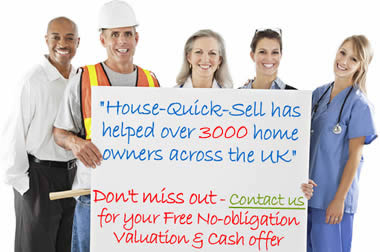 Get your Free Cash offer now

Your information is 100% confidential
P.S. Don't forget if you don't like our offer you can simply walk away!

It's a 100% No-obligation offer
You get an Immediate decision
Get a Free house valuation from an expert