10 Ways to spot Dodgy Cash buyers for houses
At House-Quick-Sell® we watch out for our customers and have realised that vendors must be careful not to be mislead by untrustworthy, misleading rogue traders. If need to sell your house for cash or need advice, read our top 10 tips on how to spot these companies or individuals:
3 important benefits for you :

We guarantee a Cash offer
Free valuation & we buy in Any condition/location

Quickly & Stress free
Sell within 7 days - Exchange in 24 hours!

100% Fee free
We take no commission and pay the legal fee's


Your information is 100% confidential
1) The market value of your property
Our consultants use a wide range of market data and analysis tools to calculate the true value of your property, for this reason our evaluation form requires more then the average amount of information. Other cash buyers for houses usually want you to quickly sign up and request less information that does not allow them to accurately value your home. This can lead to your home being valued lower than its true market value.
2) Below Market Value offer
When the time comes for an offer to be made, some companies will attempt to offer you a value that is significantly below what is considered a fair BMV offer. If a vendor is under pressure – for example their house is being repossessed or they need instant cash from their home then they are likely to accept this unfair offer without researching other companies. If you feel that an offer is not fair then the company needs to be honest about their financial limits adjust to your needs, reaching a deal that works for all parties.
3) Up-front fees
Certain companies charge up-front fee's such as valuation fees, or they surprise the vendor at a later stage of the process with charges such as surveying fees.
HQS do not charge any valuation fees and pay for all of your other fees (legal fees up to £500).
4) Delivery times
Many home sellers require a fast property sale, allowing them to release cash from their house quickly and with as little hassle as possible. Some house buyer companies state they can deliver from start to finish within a week but in reality cannot meet this deadline, when selling you should always check to ensure the company can actually complete within the given date. However, you should always bear in mind that due to the nature of the legalities involved in house sales it is not always possible to stick to a set date.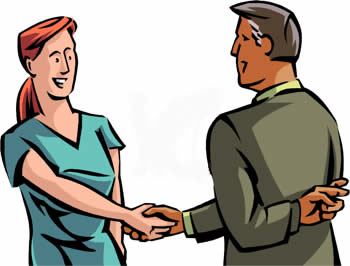 5) Surveying your property
Does the company offer a survey that is done by an independent RICS surveyor? Be careful if a company is asking for the survey to be done by some other party. HQS pays for this survey and always ensures that an independent surveyor from the Royal Institute of Chartered Surveyors is used to value your property.
6) Testimonials
Many companies suggest they have many testimonials from previous customers but in reality these are only "examples". One way to confirm these are to look for video testimonials which are of course a lot more trustworthy than a paragraph of text! You can see actual success stories and testimonials by visting our testimonials page.
7) Misleading "no-obligation" statements
Other companies have hidden requirements next to their valuations and consultations, once you take these steps with them you are contracted to follow through the whole process. HQS offer a no obligation online house valuation and consultation - you are only contracted with us when you sign the offer letter.
8) Cash house buyers industry regulation
Many of the smaller companies are only run by a single person or two with no regulation or real industry experience.
Our property buyers have years of investment experience backed up by purchasing and legal (conveyancing) teams allowing them to efficiently buy properties.
House-Quick-Sell® also supports any official regulation that may be introduced, we believe it is in the long term interest of house sellers and businesses that these are put forward as soon as possible.
9) Sell and Rent-back schemes
Many companies offer this as an "add-on" and do not support the service in full once a property has been bought, or they may offer the service and then charge a high rent fee to the original owners.
10) Communication
Many smaller companies do not discuss anything about services after a vendor has signed the contract to sell, especially in regard to communication with clients. We believe this is very important and assign a dedicated property consultant, you will have a direct number to call your assigned consultant at almost any time of the day!
Here at House-Quick-Sell® we are very flexible. If you wish to talk to one of our consultants regarding any of the above, please don't hesitate to call or email us at info@house-quick-sell.co.uk

Sell your house for cash via House-Quick-Sell® - leading UK homebuyer
What actual customers are saying...

"It was very good, got the information straight away and it went through very quickly"
-Mrs Anne, Milton keynes

"Straight talking, straight dealing", "Very good, very professional"
-Mr J, Wigan

"We are very pleased with the service that we've have had", "it's just taken about 3 weeks"
-Mrs Phillipa, Cheshire
Watch actual private sale video testimonials
Over 18 years of property buying experience

We have helped over 3000 home owners across the UK

Peace of mind - We offer a genuine hassle & stress free upfront property buying service

No risk service - Our valuation is 100% free and unlike other companies we even pay for the valuation fee.
As experienced cash buyers for houses. There will be no messing about with last minute reductions, survey delays or other problems that you hear of with normal sales – once terms are agreed, we stick to them.
How do I get started?
Take the first step in getting cash for houses by completing the form or calling one of our advisors free on 0800 0845 025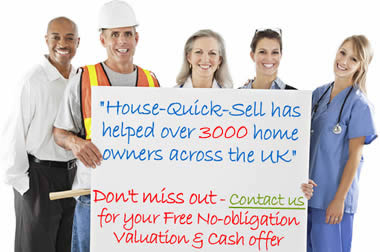 Get your Free Cash offer now

Your information is 100% confidential
P.S. Don't forget if you don't like our offer you can simply walk away!

It's a 100% No-obligation offer
You get an Immediate decision
Get a Free house valuation from an expert