The Top UK Property Websites Reviewed
Here's out list of top property websites uk wide. Obviously, these are going to be our own opinions and you might agree or disagree with them, and to be honest we've spent ages arguing about it among ourselves! Either way, you'll get an overview of the top sites in all in one place.
3 important benefits for you :

We guarantee a Cash offer
Free valuation & we buy in Any condition/location

Quickly & Stress free
Sell within 7 days - Exchange in 24 hours!

100% Fee free
We take no commission and pay the legal fee's


Your information is 100% confidential

Our Top 3 Winners

1. Rightmove
Rightmove.co.uk claims to be the biggest property website in the UK, and a quick glance shows you why so many of us like it.
What we like: Nobody matches them for sheer numbers of properties. It's easy to navigate and use, and the search criteria are wide and varied. There are also useful guides to buying and selling and so on.
What we didn't like: This is actually a done one - there isn't much to dislike about the site, it works well and does what it is supposed to!. If we had to choose something, it is let down by the fact that there is no facility for private house owners, only estate agents can put houses on it – private sellers are excluded.
2. Find a Property
Findaproperty.com builds itself around the search engine, as you'd expect, and throws in some good extra features too.
What we like: It's really, really clear what to do! This is a refreshingly simple site. Searches are easy, with a choice between buying and renting, and you get a good range of results. There are also interesting news and blog areas. There's a nice touch with links to your chosen areas schools and council tax banding details too, so you can find out a bit more about areas you are interested in.
What we didn't like: It's one of the best property websites so theres nothing that is obviously wrong to be honest, except that you can't put adverts on yourself – it has to be done through an estate agent.
3. First Rung Now
Firstrungnow.com is property portal that is 100% dedicated to first time buyers
What we like: It has some great advice to support people who are complete newbies to things like the property buying process and getting that elusive(usually) first mortgage.
What we didnt like: New visitors could be put off by the information overload! There several menus and sub menus trying to direct you to different areas and it can definitely get confusing. The website navigation should be improved be restrructing the layout and titles for different sections.
Runners ups

Homes 24
What we like: Homes24.co.uk is a relative newcomer to the buying and selling scene, but this site has made its mark quickly with a search function that covers estate agents all over the UK. The search is easy to use and results are obtained quickly, with a good number of hits. Mobile apps are also offered and there is an advice section on the site.
What we didn't like: It just seems a bit unpolished. It all works well enough but a bit more attention to the layout would see it vastly improved.
Primelocation
What we like: Primelocation.com is a big site with loads of relevant information as well as houses for sale. If you can't find what you need here, it probably doesn't exist.
What we didn't like: Only your agent can advertise properties, you can't do it yourself. Apart from that, it's great.
Tepilo
What we like: Tepilo.com was set up by TV's Sarah Beeny, and offers an innovative new way for people to sell property. You can sell your house yourself here, without going through an estate agent, and there are no commission fees to pay. It is novel and we like it.
What we didn't like: The quality of property details and photos varies according to the seller, and as it's a fairly new site that relies on private individuals rather than agency networks it only has a small number of houses for sale.
Property Snake
What we like: Propertysnake.co.uk focuses on houses whose price has dropped, and started as part of crash-predicting trend a few years ago. It's a good site if you are looking for a bargain, and those with local knowledge can leave comments about properties or areas.
What we didn't like: The site doesn't hold all the property details itself, you have to click through to the agents actual site. The obsession with falling prices also seems a bit, well, ghoulish, if we're honest.
Globrix
What we like: Globrix.com is the market leader for professionals, i.e. estate agents, and as such carries the largest range of properties for sale and rent in the UK. It's easy to use and has a couple of neat features, like the price band at the top of the results page which lets you instantly adjust your search, and the well laid out property summary.
What we didn't like: Nothing, this site is what all the others should aspire to.
Vebra
What we like: Vebra.com is another relatively new entrant to the market, this site covers all the bases and is well set out. Property details are easy to see and the site is highly useable. Everything seems to be just where you expect it to be. Allowing you to create and save a property shortlist is a nice touch.
What we didn't like: There are a few adverts dotted about, mostly focusing on the estate agency software which most site users won't be interested in.
Home.co.uk
What we like: Home.co.uk is a site that allows you to search for suitable houses right across the UK. At the time of writing it covered almost three quarters of a million homes, so it covers a very good proportion of the total that are for sale at any one time. The site allows you to search on a wide range of criteria and you can narrow it down or expand at any point. There's also a neat email alert option, which sends details of properties that match your saved criteria as soon as they hit the site.
What we didn't like: The site is a little bit too busy and it takes a minute or two to work out where everything is on it, which can be a little bit annoying. There was also a distracting banner ad at the top of each screen, for an unrelated company.
First time buys
What we like: Firsttimebuys.co.uk is another website that's dedicated to the first time buyer market which offers some unique features. This has a great 'affordability' calculator which, based on your income, brings back properties that you can afford and tells what the mortgage costs are likely to be. Private sellers can also advertise on here.
What we didn't like: The site is a bit plain, really, and could just do with laying out a bit better.
That's it, thank you for reading and don't forget to use the menu located below to read more property buying and selling articles.

House-Quick-Sell® is the UK's No.1 Property buying Company
What actual customers are saying...

"Straight talking, straight dealing", "Very good, very professional"
-Mr J, Wigan
Watch the actual private sale videos
Get started selling your home
Take the first step by completing the form or calling one of our advisors free on 0800 0845 025 (anytime).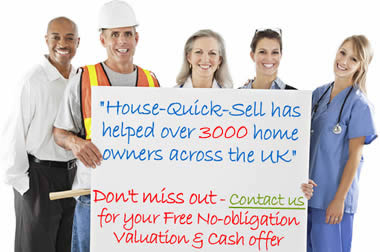 Get your Free Cash offer now

Your information is 100% confidential
P.S. Our service is no obligation so if you don't like our offer you can simply walk away!

It's a 100% No-obligation offer
You get an Immediate decision
Get a Free house valuation from an expert