Voluntary Repossession Isn't An Easy way Out
3 important benefits for you :

We guarantee a Cash offer
Free valuation & we buy in Any condition/location

Quickly & Stress free
Sell within 7 days - Exchange in 24 hours!

100% Fee free
We take no commission and pay the legal fee's


Your information is 100% confidential
Have you found yourself in serious mortgage arrears, to the point where payment plans, negotiations and other options have failed? Or you just need to get out of the property quickly and forget about it for some other reason. If you need house repossession advice about voluntary repossession then you're at the right place.

Consider your options before
simply handing over your keys
In a nutshell, it just means that you hand over the keys and leave the property before the lender takes it back (an involuntary repossession), but it really should be considered a last resort as it might not be the quick and easy answer you are looking for.
What Is Wrong With Voluntary Reposession?
The problem is that there are some major downsides if you go down the voluntary reposession route without working out the possible impacts properly.
If you don't get things absolutely right, you will still leave yourself liable for all sorts of things:
To start with, you are still liable for the mortgage (and, on top of that, the buildings insurance which will be a requirement of your mortgage) until the lender sells the property. Yes, you read it right, you'll have to keep paying even if you've moved out, and don't forget that you might also be paying for somewhere else to live at the same time. You might also be liable for up to 6 weeks council tax.
It is also unlikely that your lender will get as much for the property as it would fetch on the open market. The reason is that they will want to sell it quickly and will therefore almost certainly send it to auction, where people expect the prices to be lower and want to pick up a bargain, which depresses prices.
Your lender is also entitled to add the cost of the sale, such as auctioneers or estate agents fees, and the cost of putting the property in a saleable condition if you didn't leave it that way. So, any shortfall you already have can be made worse, and the lender is legally entitled to pursue you for the shortfall. It might not be fair, but that's how it is – you entered into a contract to borrow a certain amount of money and you have to repay it according to the contract.
If you don't pay, then you will be in arrears, fees and penalty charges will be added on top, and there will be interest too. If things continue, you might still end up with a County Court Judgement against you which will ruin your credit rating, leading to the same result you were trying to avoid by handing back the house voluntarily.
So what Alternative to Voluntary Repossession Do You Have?
Now that you know what the process involves, it's only right that you know that any sort of repossession, whether voluntary or involuntary, can be halted right up to the last moment. It requires you to have a buyer, and a serious one at that – you'll probably have to have exchanged contracts for the stay to be granted – but it is possible to find a buyer quickly even if you've exhausted all other options.
HQS will buy your property quickly for cash
With no fuss, and once they've agreed to buy your property they will see it through. Their commitment means they can notify your lender that a sale is imminent, and that the repossession must be halted, while if it really is a last minute case, they can complete the sale in just a few days. The upshot of selling this way is that you will be able to pay off the mortgage without incurring any of the additional fees that the lender would charge and, vitally, you'll have disposed of the property without any getting a CJJ or taking a big hit on your credit rating.

HQS can STOP repossession and will your house in just 7 days
What actual customers are saying...

"Straight talking, straight dealing", "Very good, very professional"
-Mr J, Wigan
Watch actual private sale video testimonials
We have nearly two decades of of house buying experience

Over 3000 home owners helped in the UK
How do I get started?
Take the first step in getting cash for houses by completing the form or calling one of our advisors free on 0800 0845 025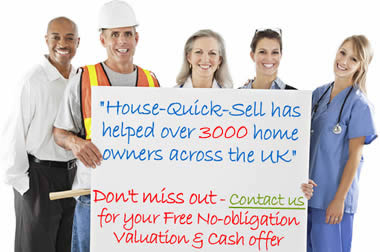 Get your Free Cash offer now

Your information is 100% confidential
P.S. Don't forget if you don't like our offer you can simply walk away!

It's a 100% No-obligation offer
You get an Immediate decision
Get a Free house valuation from an expert