We Buy Any Flat in Just 7 Days
3 important benefits for you :

We guarantee a Cash offer
Free valuation & we buy in Any condition/location

Quickly & Stress free
Sell within 7 days - Exchange in 24 hours!

100% Fee free
We take no commission and pay the legal fee's


Your information is 100% confidential

Anywhere in the UK. In Any Condition.
While the whole housing market has been hit by the downturn of the last few years, one sector of it has been hit disproportionately hard. Just before the crash, developers were building flats and apartments wherever they could fit them in or convert existing buildings to the purpose. There was a huge boom in them, especially in city centres where population density apparently made these developments a sure-fire success, yet it all went wrong.
Funding fell away, banks stopped lending and almost overnight the market for flats was destroyed as lenders demanded large deposits on new builds and developers where left with stock they couldn't sell at any price. For those who had already bought, they found that the premium of a new build vanished and they were left with an asset worth much less than they paid for it. Over a short time, almost all flats were affected, and those who needed to sell found it difficult to do so.
We buy any flat - helping property owners who need to sell quickly
We buy any house, so were in the position of being able to help some of these people out as we buy or any property, we were able to make a cash purchase which broke the deadlock and allowed sellers to get on with their future plans.
Why HQS is the flat buying specialist for you
There are two main points that give HQS the advantage over other house buying companies. The first is that we buy any flat UK wide, as we aren't limited geographically. Many of our competitors only focus on particular areas, like city centres where the supply is plentiful and is within easy reach, or areas they think are desirable and they can make a big profit in. HQS covers every postcode in England, Scotland and Wales, and we don't mind if the property is city centre or remote countryside.
Secondly, the slogan we get as 'we buy any flat.com' website is absolutely spot on. Not only don't we mind the location, but we don't mind the type or condition of the property either. Whether it is a single bedroom flat in an area which is in decline, a three or four bedroom affair built to the very highest standards in an attractive location, or something in-between, we'll buy it. We understand that when times are tight, you might not have been able to manage the upkeep of the flat, and that repairs or a facelift might be needed. While that might put off a traditional buyer, especially at the moment as they have the pick of the market, it doesn't affect us other than we'll make an offer which reflects the condition of the property, just like anyone else will.

What actual customers are saying...

"It was very good, got the information straight away and it went through very quickly"
-Mrs Anne, Milton keynes

"Straight talking, straight dealing", "Very good, very professional"
-Mr J, Wigan
Watch actual private sale video testimonials
House-Quick-Sell® is Leading UK Home buyer
We don't just pay lip service to that idea, it is a genuine promise that we buy any flat. It really can't be stressed enough that our offers don't mean 'maybe we'll buy if like what we see' or 'perhaps we'll go through with it if we feel like it in a few weeks', they mean that we're serious and committed to buying.
Once we make an offer and agree to buy your flat, we will go through with it unless you change your mind. Unlike some less scrupulous companies, there'll be no backing out later down the line or threats to pull out unless you agree a new, lower price. Right from very early on, you'll know exactly where you stand with both the valuation of your property and the fact you've got a solid buyer lined up. How quickly it all happens is up you of course, as we understand that we need to flexible and fit around your needs.
Some of our purchases have been completed within seven days, while others have taken a few months until the sellers have found an alternative property. Either way, we want you to have a good experience when selling to HQS, so give us a call or fill in the form to put us to the test.
How do I get started?
Take the first step by completing the form or calling one of our friendly consultants free on 0800 0845 025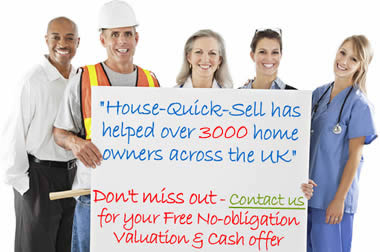 Get your Free Cash offer now

Your information is 100% confidential
P.S. We buy flats fast but don't forget if you don't like our offer you can simply walk away!

It's a 100% No-obligation offer
You get an Immediate decision
Get a Free house valuation from an expert