We buy houses in just 7 days
3 important benefits for you :

We guarantee a Cash offer
Free valuation & we buy in Any condition/location

Quickly & Stress free
Sell within 7 days - Exchange in 24 hours!

100% Fee free
We take no commission and pay the legal fee's


Your information is 100% confidential
Any situation. Any Location. Any Condition.
Were not an individual or club or some other sort of scheme, were a company and thats the service we offer. We buy any house and we like to think were pretty good at it too!
What can we offer?
When we make a purchase, we buy your property with our own cash, this is unlike 95% of other companies are only acting as middle men to investors. We buy homes or even flat's or apartments, we don't mess about with mortgages, making you wait for weeks while we sort out our on finance. It's already there and waiting, ready to give to any seller who requires it. Obviously, this is better for you, the seller, as when the payment is made to you it clears instantly, so you don't have to wait a few days like you have to with cheques.
We really aren't fussy about the property!
One of the things that appeals to many of our customers is that we aren't fussy about the properties that we buy. In the wider market, when you are dealing with the usual channels like estate agents, you will often find that potential buyers are put off by location, or by the condition of the property, or for some other reason.
That isn't how we work, we buy homes with minimum hassle to you. We aren't interested in what your personal circumstances are or in your reasons for selling – those are your reasons alone, and if you want to keep those confidential that's fine by us. Passing judgement isn't something that we will do either, as it's not our place. If the property you want to sell needs a little bit of work, or even a lot of work, we are still interested. If it's in an area that many buyers won't consider for some reason, we will still be interested.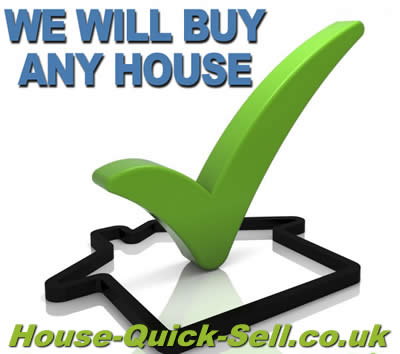 How we buy your home - Step by step
As I've explained earlier, the whole thing is set up so that it suits everybody. The process is made as easy on the seller as possible, and will usually go something like this:
1. The seller contacts us, either through the phone or by completing the form on the website. We take a few details regarding the property,
2. One of our property consultants confirm that we are interested in buying the property and present a cash offer
3. If the seller is happy we then arrange an independant RIC's valuation with the seller. This is arranged at a time to suit them, not us, and will only take about half an hour or so to complete.
4. Once the house is being valued and everything is ok we confirm the cash offer for the property. While this is usually a lower amount than, say, an estate agent would value it at, you need to remember that you will be playing as a commission, and we will be paying your legal fees for you. The cash offered is exactly what you'll get, with nothing taken out of it. We won't haggle or change our mind at the last minute, so you can be sure that once we have made an offer we will follow it through.
5. If you decide everything is okay and HQS can buy the property, then we will discuss when you want to complete. We have no need to raise funds or wait for searches, so we can complete extremely quickly. We buy houses quickly so if you need us to, the sale can be completed in as few as seven days from you contacting us.
6. Both the cash payment amount and the date of completion will be confirmed to you. Our legal team will do all the necessary paperwork, and all you will have to do is sign the relevant pieces at the appropriate times. You won't even have to pay for the legal work done on your side, we will pick that up too (however you can use your own solicitors if you like).
7. Finally, once the sale has gone through, the cash will be with you very quickly and often on the same day (sticking to our original we buy houses cash promise).

What actual customers are saying...

"It was very good, got the information straight away and it went through very quickly"
-Mrs Anne, Milton keynes

"Straight talking, straight dealing", "Very good, very professional"
-Mr J, Wigan
Watch actual private sale video testimonials
House-Quick-Sell® is Leading UK Home buyer
HQS has assisted thousands of home owners over the years

Our quote is 100% no obligation

We have nearly 20 years of fast house buying knowledge

As we buy with our own cash we can genuinely guarantee a fast, hassle free sale. Once you are happy with our offer then we stick to it.
How do I get started?
Take the first step by completing the form or calling one of our friendly consultants free on 0800 0845 025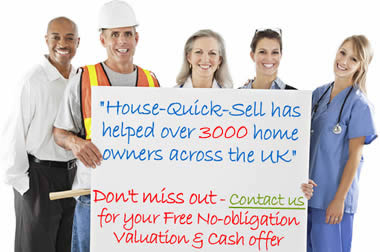 Get your Free Cash offer now

Your information is 100% confidential
P.S. We buy homes fast but don't forget if you don't like our offer you can simply walk away!

It's a 100% No-obligation offer
You get an Immediate decision
Get a Free house valuation from an expert