Adding Value to Your Home Guide - Part 1
The economy seems to be struggling to pull itself out of recession, and the housing market is in the doldrums. That doesnt meant that people no longer need to sell houses though, and in fact its just the opposite in many cases as the pressure to sell becomes more intense.
3 important benefits for you :

We guarantee a Cash offer
Free valuation & we buy in Any condition/location

Quickly & Stress free
Sell within 7 days - Exchange in 24 hours!

100% Fee free
We take no commission and pay the legal fee's


Your information is 100% confidential

Adding value doesnt mean lots of hard
work or expensive decorting materials!
Buyers are few and far between and can afford to be picky, While sellers need to stand out from the crowd by reducing prices or improving their properties. The former option doesn't really help if you need to get every penny from the sale, while the latter can be expensive.
What Adds Value to a Home? Read this 2 Part Guide to find out!
There are things like home improvements you can do yourself to make your house more likely to sell and they needn't cost a fortune in fact they are likely to add value to your home that is far beyond what youve spent. Below are some of the things you can do to your home to maximise its value and improve interest from potential buyers, and well continue with the theme in part 2.
1. Fix leaks and drips
There isn't much that is more irritating than hearing a tap dripping in the background, and potential buyers will soon notice it. Some will take it as a sign of neglect for the whole house and be put off, so for the sake of spending a few pence and some time fitting a new washer you might as well do it. The same goes for any minor leaks under the sink or the bath – use sealant or tape to fix them before they create a visible damp patch.
2. Repaint
An easy way to adding value to your home. It's the first things people will notice on walking into your home are the walls. If the colours are faded and dull, or have that ugly patina that builds up after a few years, then buyers will mark it down as further expense and reduce their offer or walk away completely. You can paint the walls yourself without too much bother, and you don't need to buy top of the range paint either – a cheap one will do the job just as well, just remember that it only needs to look good for long enough to sell the property.
3. Patch up holes
Walls take a lot of abuse and plaster is easily damaged, especially as they are often hit by the handles of doors flung open a bit too quickly. You might get away with hiding the holes behind open doors, but a buyer with a bit of sense will soon spot this. It's better to use a bit of filler in the holes, sand it down so it's level with the wall, and paint it so that nobody can see the repair.
4. Refurbish kitchen doors
Kitchens are massive selling points for homes, and buyers like to see they've been well maintained. You don't need to go to the expense of replacing all the units to make it look fresh and up to date though, you can simply refurbish the kitchen doors. If you've got solid ones sand them down and re-oil or paint them, and if you've got vinyl wrapped ones simply replace the wrap with new. Both are jobs you can do yourself, though of course there's nothing to stop you buying replacement doors if your budget runs to it.
5. Sort the flooring
Worn and dirty carpets and squeaky floorboards just shouldn't be allowed to remain visible to a potential purchaser. Clean your carpets with a hired machine or get a company in to do it, and if they are beyond repair replace them. A cheap carpet isn't a problem, but try to buy the best underlay you can afford as it will make even low quality carpets feel good underfoot. While the carpets are up, secure any squeaky floorboards properly.
6. Make it look good outside
When potential buyers approach your house, the first thing they will see and what will give them a good or bad impression is the outside. If you've got fencing paint it and make good any holes or broken timber. Plant flowers if you have a garden and use hanging baskets and pots if you don't have any soil. Clean the front door and sweep the path, filling in any driveway holes as needed. None of these things should take too much time or effort, yet they're the difference between a property appearing to be looked after and therefore worth more, and one that looks neglected for which you'll be offered peanuts.
It goes without saying that the jobs above should be done regardless of who your intended buyer is. If you've gone down the estate agent route, it will improve the chances of getting a few buyers wanting the house. If you are selling the home for cash to a company like HQS, then you'll get a better offer if your home is in better condition. All of the ideas above can be done fairly cheaply by even a novice DIY type of person, but if you want some bigger ideas on how to add value to your home then click this link to read part 2.
House-Quick-Sell® is the UK's No.1 Homebuying Company
What actual customers are saying...

"Straight talking, straight dealing", "Very good, very professional"
-Mr J, Wigan
Watch the actual private sale videos
Get started selling your home
Take the first step by completing the form or calling one of our advisors free on 0800 0845 025 (anytime).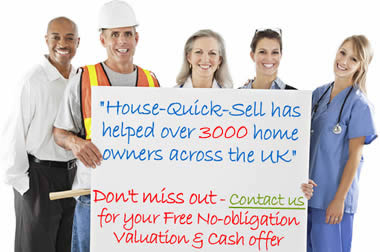 Get your Free Cash offer now

Your information is 100% confidential
P.S. Our service is no obligation so if you don't like our offer you can simply walk away!

It's a 100% No-obligation offer
You get an Immediate decision
Get a Free house valuation from an expert