Adding Value to Your House Guide - Part 2
3 important benefits for you :

We guarantee a Cash offer
Free valuation & we buy in Any condition/location

Quickly & Stress free
Sell within 7 days - Exchange in 24 hours!

100% Fee free
We take no commission and pay the legal fee's


Your information is 100% confidential

In Part 2 we cover bigger ways that are
more likely to get your House Sold!
Okay, we're into the second of our articles that will show you how to add value to your house. In the first part (adding value to your home part 1), we looked at some of the quick fixes that can be done quickly and cheaply, so on this one we're going to take a look at some of the other projects you can undertake. These will take a bit longer and cost a little more, but on the other hand they're likely to have a bigger effect.
7. Create Off Road Parking
This option is probably the quickest and cheapest to achieve, and you'll be able to do most of it yourself. Plenty of properties have front yards or gardens which aren't really used – they're often just patches of dirt, flags or gravel – and that is just a waste of space. Making it so that you can park a car off the street or even adding to existing space to get a second car in will greatly increase the appeal to buyers who want somewhere convenient and secure to park. It may have an added bonus of tidying up that patch of garden or yard that you've quite got round to sorting out, further improving the appearance of the property from the street.
8. Refit the bathroom
Properties will, quite literally, sell on the basis of the bathroom alone. A good one will keep people hooked and hold the price up even if the rest of the house isn't quite so good. The opposite is also true, so if you've got a 1970's avocado bathroom suite with cork flooring you'd better think about bringing it up to date, because an outdated or poorly maintained bathroom will put buyers off even if the rest of the house is perfect. You don't need to go mad, just change it so it is in keeping with the rest of the house and looks clean. A refit of your bathroom will add 3% to the value of your house, so that's about £4500 - £5000 for an average UK property.
9. Replace the kitchen
If you were to ask an estate agent what you could do to add value to your house, over 70% would tell you to put in a new kitchen. Like the bathroom, it's a massive selling point but if it looks tired, out of date or needing a lot of work buyers either won't be interested or will use it as an excuse to reduce their offer. When you modernise or upgrade, go for styles that are in keeping with the type of property and keep it functional. Create as much worktop space as you can, site appliances where they are convenient and generally make the space easy to work in. As regards what you spend on it, the average is about 8% of the value of the property and the result can lift the house value by as much as 15%. It's certainly a worthwhile investment, just make sure you don't overdo it.
10. Convert spare space
If you can add an extra bedroom to your house, it will increase its value significantly and add to the appeal to buyers as effectively you'll be lifting the house into the next tier of desirability. Adding value to your house by creating a bedroom in the loft is usually the obvious place to start, with a conversion into a bedroom and en-suite worth giving up to 20% uplift, although the work might not be either cheap or quick if you have to do things like drop the ceilings or carry out extra support work on the roof. If you can't get into the loft or just don't have the space up there, a garage conversion will achieve similar effects and in some houses a basement or cellar conversion may be an option, though that one is certainly the more expensive of the three. These conversions are also not really something you can do yourself as compliance with building regulations needs some fairly detailed knowledge, planning permission may be required and there may be some significant structural work to carry out.
11. Add an extension
This is the one that you probably thought of first when you were thinking about how to go about adding value to your house. Everybody does, and for good reason – it creates a lot of extra space that can be used how you want it, and it's always noticed right away by potential buyers. A house with an extension stands out from its neighbours and demands attention, and it commands a hefty price premium because it's different. Make sure you get the job done properly though, as a cheap, thrown together piece of work will be obvious, put buyers off and maybe even cost a lot more money to put right. Do it right, though, and it will add a massive chunk value to your property.
If you were wondering "what adds value to a house" we hope our guide has helped answer this question. If you're looking for more tips and advice, check out our Selling guides section that's there to House-Quick-Sell or use the links below.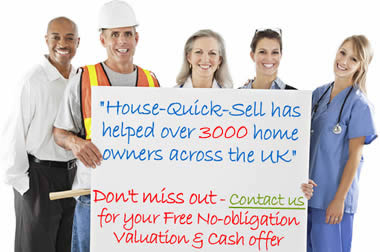 House-Quick-Sell® is the UK's No.1 Housebuying Company
What actual customers are saying...

"Straight talking, straight dealing", "Very good, very professional"
-Mr J, Wigan
Watch the actual private sale videos
We have helped houseowners across the UK
Our service is designed to take away or the hassle and stress
100% Risk free - We offer a no risk quote and valuation
Get started selling your house
Take the first step by completing the form or calling one of our advisors free on 0800 0845 025 (anytime).

Get your Free Cash offer now

Your information is 100% confidential
P.S. Our service is no obligation so if you don't like our offer you can simply walk away!

It's a 100% No-obligation offer
You get an Immediate decision
Get a Free house valuation from an expert