Auction My House? You may want to think Again
3 important benefits for you :

We guarantee a Cash offer
Free valuation & we buy in Any condition/location

Quickly & Stress free
Sell within 7 days - Exchange in 24 hours!

100% Fee free
We take no commission and pay the legal fee's


Your information is 100% confidential
So, you're looking to auction your house?
It may well be that you think it's the only option you have to sell quickly, or the only way you can offload a property which isn't selling through the traditional channels for some reason or other. In this article, we will look at one of the alternatives, the cash buying company, and compare the two methods so that you can be sure you choose the one that's right for you.

You really are "rolling the dice" when you
choose to auction a house
Auctioning your house
Auctions do seem to be one of the'last resort' choice at the moment. Properties are sold at auction for all sorts of reasons, as indicated above – sometimes they need to be sold fairly quickly, sometimes they're not in a good state of repair or they're in an undesirable area, or the seller just doesn't want to bother going through all the hassle or organising estate agents and visits from potential buyers. There's a range of sellers at auction too, from individual homeowners to those with rental properties, investment companies and of course bank and building societies who want to sell repossessed properties. It's also a fairly simple process and it doesn't take much to work out how to auction your house.
Auctioning your House Vs. House-Quick-Sell's Quick Sale service
There are definite advantages to auctions in certain circumstances.
That is, when you compare them to traditional channels like estate agents, but here's the thing – for every advantage that an auction sale offers, a cash buying company can improve on it. Let's take a look at a few common reasons for going to auction, and why house-quick-sell companies like HQS can be a real alternative.
• Speed of sale – Auctions are faster, in most cases, than selling through traditional channels. While a property can sit with an estate agent for months, or even years, it's all usually done and dusted within ten weeks when sold at auction. That's the time from initial instruction, through to the auction itself, and up to the day you receive payment. HQS can cut that time down considerably though – they can complete in as little as 7 days if that's what you require, and the typical sale still only takes about 3 weeks.
• Fast payment – Assuming the property sells at the auction you get the payment pretty quickly. A deposit (of about 10% of the sale price) is paid straight away, with the balance due in the next 28 days. That's not bad, but it's nothing in comparison to selling to a cash buyer. HQS, in comparison, can pay you the full amount on the day of completion, and don't forget that cash payments clear instantly so you'll have access to it immediately. Now the 28 days doesn't seem quite so quick, does it?
• Completion is guaranteed – When selling houses at auction, once the hammer has fallen and the property has met its reserve price (i.e. the minimum it is to sell for) the contract is legally binding (unlike private sales, where as many as 1 in 3 fall through before completion). Therefore, the sale is guaranteed, but it has to have met the price conditions first, and that's not guaranteed. Compare that to HQS, who guarantee to buy your property for the amount they offer, so the uncertainty about whether the property will sell or not is completely removed.
• Guaranteed Price – you set the reserve for the property at auction, and if no bids reach this amount the property isn't sold. In that respect, you'll always know what the property is going to sell for, but what if it doesn't happen? Don't forget to factor in the auctioneers fees, either, as these can take a chunk off. In contrast, HQS will tell you right away what they will pay for the property, and you won't need to pay them any commission or, for that matter, legal fees.
In summary, if you've been trying to find someone to 'auction my house', you need to at least consider HQS as an alternative. Challenge them to give you a better deal than the auction house would – you've got nothing to lose, as you can always still sell at auction if HQS doesn't live up to their claims!
Get a ZERO risk offer from House-Quick-Sell before you try an auction!
1) Get in touch >>

2) Cash offer >>

3) Sale!

Get started by completing the cash offer form or call free anytime on 0800 0845 025

A property advisor will call you within 24 hours to discuss your situation
and offer you a Free no obligation valuation & cash offer
If you are happy with the offer we will start the valuation process and exchange within days or whatever timescales that best suit you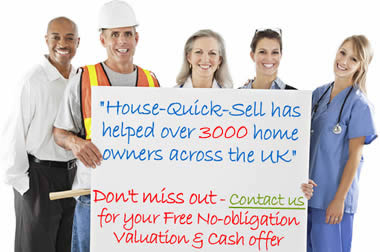 Get your Free Cash offer now

Your information is 100% confidential
P.S. Auction my house (UK)? Why risk it when you can get a ZERO risk offer from us first!

It's a 100% No-obligation offer
You get an Immediate decision
Get a Free house valuation from an expert