Get a speedy, fair & stress free house sale in days
House-Quick-Sell® is the UK's leading national home buyer with over 18 years of experience in buying property. Our flexible service is the fastest way to sell your property. You will recieve an instant, no-obligation, genuine offer you can trust and if you decide to go with us we won't even charge any agent, legal or valuation fees!
How we can help you:

We guarantee a Cash offer
Free valuation & we buy in Any condition or location

Quickly & Stress free
Sell within 7 days - Exchange in 24 hours!

100% Fee free
We take no commission and pay the legal fees


Your information is 100% confidential
What actual customers are saying...
"Unlike other house selling options"
"We are very pleased with the service we've have had, it's just taken about 3 weeks"
-Mrs Phillipa, Cheshire
"Relieved to have found your site"
"Straight talking, straight dealing, very good, very professional"
-Mr J, Wigan

How It Works - 3 Steps easy steps!
1) Get in touch >>

2) Free Quote >>

3) Sale!

Get started by completing the cash offer form or call free anytime on 0800 0845 025

A property advisor will call you within 24 hours to discuss your situation
and offer you a Free no obligation valuation & cash offer
If you are happy with the offer we will start the valuation process and exchange within days or whatever timescales that best suit you
Why House-Quick-Sell is a better option than an Estate agent
National statistics show 1 in 3 sales fall through via estate agents
We at HQS understand many circumstances can lead to homeowners needing a quick sale, our homebuying services are designed with your interests in mind. Compare the table below to see how our service offers many genuine advantages over traditional estate agents:
Using an Estate agent

Using House-Quick-Sell®

Other buyers can back out

Estate agent sales can be uncertain and time consuming

We take care of everything, keeping the process as hassle free as possible.

You must pay a number of fees including legal and valuation fees

We cover all of these (solicitor fees up to £500)

Typically, Estate agents fees are around 2%

We do not charge any commission

Estate agent will charge approx £300+ for a RICs valuation

If you sell through us, we
will pay this for you

No hidden costs/Up-front fees or false promises

Chain breaking or further issues can materialise later

We stick to our agreement to completion.

Public viewings and other parts of the chain just mean more work and stress for you

No public viewings or boards are required, we are 100% confidential

Estate agents may not want to sell your property and are not flexible

We will buy your house regardless of the situation and are willing to be flexible to suit your needs
HQS offers a service that saves thousands in fee's and the advantages above are clear to see!

You're in safe hands with House-Quick-Sale
Experts at selling property quickly
Over 18 years of property buying experience

National UK (England, Scotland and Wales) experts at buying houses - we have helped over 3000 home owners all across the UK

Peace of mind - We offer a genuine hassle & stress free upfront property buying service
Whatever your circumstances, HQS aims to provide you with a fast, reliable and professional service to ensure that you can sell your property quickly.
Minimum stress or hassle - we take care of everything

Flexible timescales - move on in timeframes that suits you

Transparency - an assigned property consultant will keep you informed at all times

Honest & professional advice - we will help you sort out your debts or stop repossession worries

Confidentiality & privacy - No boards or viewings, even the neighbours don't have to know
We will buy "as-seen" in any condition or location - no need to re-decorate your house!

We guarantee a cash offer for your home - whether it's a house, flat or apartment.

We are the right specialists for anyone looking to sell property fast regardless of the situation - financial difficulties, reposessions or evictions, broken chains, divorce property & debt management
We can exchange within 24 hours

No risk of property chain breaking

Immediate decision - giving you a clear option

Free property valuation from one of our property experts
Sell fast with no legal, valuation or estate agent fees

No fees to pay whatsoever - you avoid paying estate agent fees that average around 2% . The money we agree with you is the money you receive after the sale (minus any secured loans or mortgages)

We will cover the valuation costs

We will cover the legal fees (Up to £500 if you wish to utilise our solicitors)

No hidden charges - EVER

Our promise to you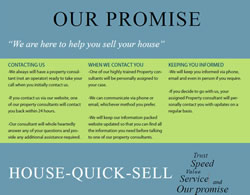 As a leading cash property buyers UK with over 18 years of property buying experience our customer service standards are very important to us, our promise gives you peace of mind and makes our customer service standards clear:-
Trust, Speed,Value & Service
Don't just take our word for it - watch actual testimonials of customers who have already sold fast

Warning! - Don't miss out on selling!
As reported by the BBC and other reputable media sources the house selling market is not expected to recover any time soon. With interest rates planned to go up and the market expected to remain "sluggish" now is the time to take action before further market changes may make it even more difficult to sell your property.
We are a truly national company and buy properties anywhere in England, Scotland or Wales. Within these areas, there are no parts we won't buy in, nothing out of bounds or 'not in quite the right area'.

CHALLENGE US to give you a fair deal!
If you've been trying to sell your house with no success, you need to at least consider HQS offer as an alternative. You've got nothing to lose as you can always continue advertising your house via traditional methods.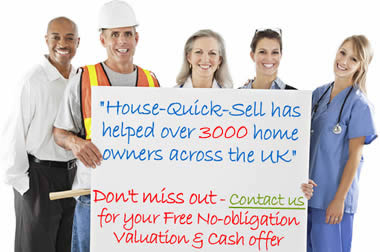 Latest House Selling Guides, Tips and Advice
New to the website? Read our House quick sell reviews for an overview of the website and guide on navigating around.
Do you have a flat? Maybe it's an usual type of property or location? We buy any flat in the UK so carry on reading to find out if we can help you sell your flat fast.
House-Quick-Sale - How we buy within days . You've seen the adverts in the newspapers and on TV, you've got the idea of a house quick sale on your mind and you're interested in finding out more...
New article: 5 Steps to selling your property. An overview with simple steps that can make a huge difference
Get your Free Cash offer now

Your information is 100% confidential

It's a 100% No-obligation offer
You get an Immediate decision
Get a Free house valuation from an expert